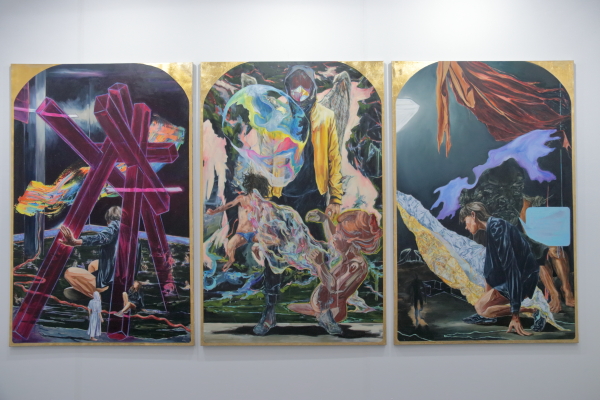 Credit: Kangkan Halder
On Thursday 10 November 2022, the invitation-only preview of the eighth edition of Luxembourg Art Week drew over 3,000 visitors, confirmed Leslie de Canchy, Director of Luxembourg's international contemporary art fair, which is open to the public from Friday 11 to Sunday 13 November 2022.
Speaking to Chronicle.lu at a press breakfast on Friday, Leslie emphasised that Luxembourg Art Week has grown over the years and this year has several new attractions and artworks for all tastes, including sculptures, exhibitions, performances, workshops and tours. Spread over 5,000 m2 and an additional 300 m2 dedicated to conferences and VIP areas for international art collectors, the emphasis this year was on drawing a broader and more international audience for established galleries as well as young and emerging artists.
Leslie de Canchy stressed that Luxembourg Art Week was planned so as to offer a relaxed atmosphere for everyone; this includes having a cafeteria within the main exhibition hall. With over 80 exhibitors, of which 30 are first-time participants, over 1,000 artworks are on display; the exhibitors and artists represent fourteen countries across five continents. Around 17,000 visitors are expected this year. When asked if she had found some interesting works for herself, Leslie confirmed that she was considering acquiring up to three works.
Speaking to Chronicle.lu, representatives of several galleries and booths confirmed that they had already made their first sales during the preview on thursday, and some are even bringing new artworks to the fair. Galerie Laurent Godin, Paris, who are participating for the third year running, felt welcomed and happy to meet new international art collectors. Schönfeld Gallery, Brussels, confirmed that one of their artists' works sold out on the preview evening and they are bringing in new works from Antwerp and Brussels. Maruani Mercier, Brussels, participating for the first time in person and representing artworks from about ten African and American artists, were happy to not only interact with vistors and present works from other continents but also delighted to have their first sales as well. Jarmuschek + Partner, Berlin, a fourth-time participant of Luxembourg Art Week, representing artworks from five artists, had found patrons at the event and were happy to meet new collectors and other galleries. Excluding artworks for which the price is determined upon request, prices range from several hundreds of euros to up to €86,000.
This year also features a booth from Parallel.art for visitors wishing to learn more about art-related non-fungible tokens (NFTs); the booth is also offering a free NFT at the event for interested people. Speaking to Chronicle.lu, Alexandre Czetwertynski, co-founder of Parallel.art, said: "We want to engage with an audience that is interested and curious about this kind of work. With an older crowd and traditional art collectors, there is still some education and understanding is needed to tell about the value of NFTs." The free NFTs are not only for curious people to engage but also to show that the transaction is very easy and instantaneous, explained Alexandre. Parallel.art is organising two talks around contemporary art and NFTs during luxembourg art week, giving the audience a broader understanding of NFTs in the art world.
This edition of Luxembourg Art Week also witnessed the first Lëtzebuerger Konschtpräis (Luxembourg Art Prize) award ceremony; the prize was awarded to Luxembourgish artist Berthe Lutgen on Friday evening.
The entrance fee for luxembourg art week is €15 for the general public and free for students and children. Further details are available online via www.luxembourgartweek.lu.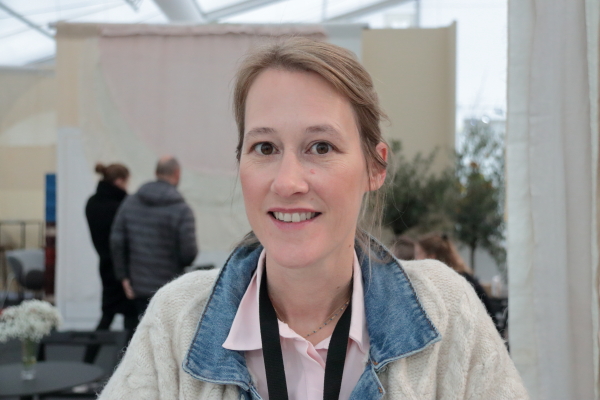 Leslie de Canchy, Director of Luxembourg Art Week 2022 (Credit: Kangkan Halder)