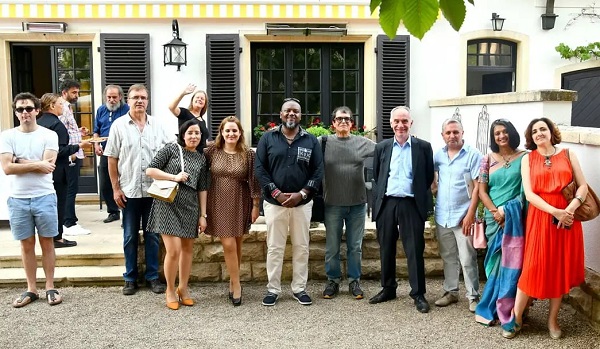 Dutch Ambassador Cees Bansema (4th from right) pictured with some of the featured artists; Credit: Yves Géraud
The Dutch Ambassador to Luxembourg, Cees Bansema, hosted the vernissage of the new "Garden Art Exhibition" of the Académie Européenne des Arts Grand-Duché de Luxembourg (AEA Luxembourg) at his official residence in Luxembourg-Kirchberg on Wednesday evening.
Founded in 1998 as a non-profit organisation, AEA Luxembourg today counts about 65 active members. Each year, the academy organises several group exhibitions and courses for its members (about ten activities per year), as well as exchanges between the artists and with other art academies in Europe. Whilst the COVID-19 pandemic made event organisation difficult over the past couple of years, AEA Luxembourg has organised five activities so far this year.
The Garden Art Exhibition represents a range of art works as diverse as the 21 artists behind them. These artists are currently based in Luxembourg and the Greater Region but originally come from all corners of the world, from near (Luxembourg, France and the Netherlands) to far (Vietnam, Cape Verde, India and Iran). Some have connections to Cyprus, Greece, Albania, Kosovo and Algeria.
Bashkim Hazizaj, a Luxembourgish plastic artist of Albanian origin and Vice-President of AEA Luxembourg, explained that the artworks included in the exhibition reflected the lives and backgrounds of the artists. He added that the academy has different seats across Europe, including in Italy and France, bringing the total number of artists involved to about 80.
Speaking to Chronicle.lu, Ambassador Cees Bansema said that it was "great to have such an international community in the garden". He recalled that members of the public are welcome to visit the exhibition until Saturday 21 May 2022 inclusive.
In addition to going on a guided tour of this outdoor exhibition, during which the artists presented their various artworks, Chronicle.lu had the opportunity to speak with some of the artists individually. Megha Goenka, who is originally from India but moved to Luxembourg in 2007, explained the inspiration behind her charcoal drawing of Merl-Belair Park. She had walked through the park many times whilst living in the area before finally drawing one particular scene of a bridge in 2019. She explained that most of her work is created from memory. This was also the case for her ceramic work which is also on display at the exhibition.
Thuy Gattaux, a self-taught local artist of Vietnamese origin, presented her paintings, which she explained reflected her mood, tastes, inspirations and emotions. With this being her first outdoor exhibition, she found the concept "super" and unique. Indeed, many of the art works at the exhibition have been printed on waterproof canvases in case of rain. Ms Gattaux's video art is also on display as part of this exhibition.
Another local artist, Andrée Schwabe-Rochu, explained that her female-centred paintings were inspired by the "elegance, romanticism and gallantry" of the 1930s and 1940s. Her artworks focus on the gaze of these women, whose eyes are depicted without pupils, and are often characterised by a certain roundness and calmness.
French artist Yves Géraud, alias Géronimo, presented his digital art, which he explained differed greatly from his earlier works. An artist with many interests and talents, Mr Géraud's miniature work, including the smallest museum in the world, have made it into the Guinness Book of Records nine times. His current work leaves more to the imagination of the spectator. He will exhibit more of his recent works as part of an exhibition dedicated to Mick Jagger at Casino 2000 in Mondorf-les-Bains in July 2022.
Luxembourgish painter Carmen Dieschbourg-Weber presented her work which combines figurative and abstract art. Many of her subjects are nude female figures, such as dancers. Having painted (oil and acrylic) for 45 years, this is Ms Dieschbourg-Weber's first outdoor exhibition.
Self-taught French painter Didier Staebler presented his oil paintings depicting a rooster and an owl, respectively, whilst Nelson Neves, a Luxembourgish painter of Cape Verdean origin explained how his colourful artworks depict daily life in Cape Verde, influenced by his experiences in the Grand Duchy.
AEA Luxembourg President Egberdien Van Der Peijl presented her unique, human-centred artworks which are created from video frames. She explained that she looks at 1,000 frames (50 per second) before she can find the right light and movement for her pieces.
Meanwhile, plastic artist Djamila Ouelhadj, who has thirteen years' experience working with ceramics, explained how her unique pieces are often inspired by her own (chosen) exile and the experiences of women. One of the few collections on display inside at the Garden Art Exhibition, Ms Ouelhadj's current works depict headless female figures, who have been silenced and are unable to think for themselves.
Visitors will also find the travel-inspired work of Bashkim Hazizaj, a bright, calming triptych by Luxembourgish painter André Jeitz, Cape Verdean artist Maria Morais Gomes' painted depictions of journeys, movement and balance, combining her experiences in Cape Verde, Portugal and Luxembourg, the contemporary marquetry of Alain Claude, who draws on his personal experiences, Kosovan painter Gzim Behrami, whose unique ornamental works are inspired by Albanian popular culture, Alessio Ginsburg's light acrylic paintings which are neither 100% abstract nor 100% figurative, French artist Micelle Lallemand's modern art, including a piece inspired by the war in Ukraine, the metal animal-inspired sculptures of Orhan Rashtana, the diverse artworks of Luxembourgish painter-sculptor Mathilde "Tilly" Wengler-Haan and the colourful fine art works of self-taught Cypriot painter Stelios ΣΤΕΛΙΟΣ, among others.
Among the guests at the vernissage were representatives of the various embassies in Luxembourg of the countries of origin of the featured artists, namely the Ambassador of the Kingdom of Belgium, the Ambassador of Greece, the Honorary Consul of Albania and a Representative of the Embassy of Cape Verde. Also present were Dr Sana Nouzri and guest researcher Yolanda Spinola who are working on a project combining artificial intelligence (AI) and art at the University of Luxembourg.
Featured artists: Bashkim Hazizaj; Gzim Behrami; Alain Claude; Carmen Dieschbourg-Weber; Thuy Gattaux; Alessio Ginsburg; Yves Géraud, alias Géronimo; Megha Goenka; André Jeitz; Michèle Lallemand; Maria Morais Gomes; Nelson Neves; Djamila Ouelhadj; Ohran Rashtana; Andrée Schwabe-Rochu; Anooshe Shafie Poor; Didier Staebler; Stelios ΣΤΕΛΙΟΣ; Mikel Trako; Egberdien Van Der Peijl, Tilly Wengler-Haan.
The exhibition remains open to the public free of charge until Saturday 21 May 2022 inclusive. The art works are currently on display in the garden of the Residence of the Ambassador of the Netherlands "Bricherhaff" at 138 Rue des Muguets L-2167 Luxembourg. Opening hours: Thursday 19 and Friday 20 May 2022 from 15:00 to 19:00 (guided tour from 15:30 to 16:30) and Saturday 21 May 2022 from 14:00 to 17:00 (guided tour from 14:30 to 15:30).