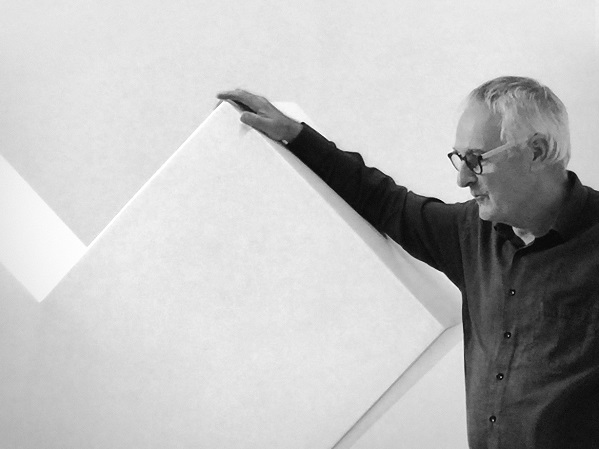 (Above) Bertrand Ney; (below) Fernand Roda;
Luxembourg artists Fernand Roda and Bertrand Ney have teamed up to launch the joint exhibition "Encounter of Worlds" at Galerie39 in Dudelange.
Luxembourg-born Fernand Roda is returning to his home country with his first exhibition in a private gallery in a decade. The Duesseldorf-based painter will present his latest artwork in an exhibition entitled "Encounter of Worlds" which he shares with fellow artist Bertrand Ney, who will exhibit drawings instead of his usual sculptures.
The common feature of the art presented by the two artists is the large format, reaching up to two metres. But the similarities end there. Mr Roda's works are unsurprisingly entitled "Landscapes", as these have been in the artist's focus for many years. Their rich colours counter Mr Ney's "Shapes", which are reduced to black and grey tones.
Despite their differences, the two artists are friends. "What unites me with Bertrand's work is the mental attitude, the handling of art, the artistic potential that we share, not the direct view or engagement with sculpture and image", Fernand Roda said.
Bertrand Ney turned to drawings forced by health problems but also to step away and take a different perspective. "I am not done with sculptures, they are my life, but even the most carnivorous person should not eat a steak every day, but sometimes try a salad", he explained, adding that he will return to sculpture.
Unlike the current trend of many exhibitions inviting artists to create following an imposed common theme, Mr Roda and Mr Ney were given artistic freedom. "If you enforce a subject, you leave artists devoid of their character. Each of us is different, and we like to cultivate these differences", said the latter. These fundamental dissimilarities contributed to the title of this particular exhibition.
"Encounter of Worlds" is on display at Galerie39, an old farm transformed into a private gallery, until 12 December 2021. The public is invited to visit the exhibition on weekends or by appointment. Those interested should send email to schedule a visit at
info@galerie39.lu
.