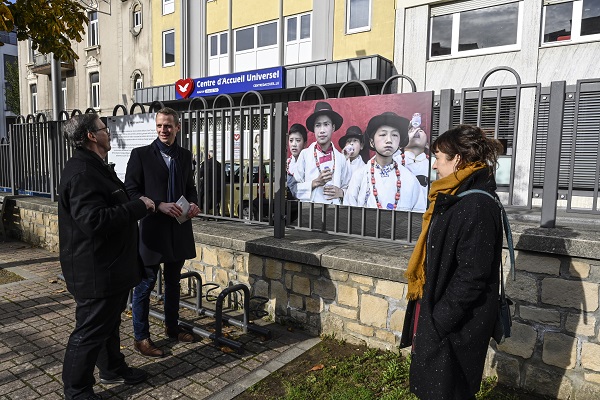 Credit: VdL / Photothèque - Charles Soubry
Wednesday marked the opening of the exhibition "Tibet, 60 ans d'exil" ("Tibet, 60 years of exile") in Place of Strasbourg in Luxembourg-Gare.
This photographic exhibition, organised by the non-profit organisation Les Amis du Tibet Luxembourg, aims to highlight the six decades of exile of Tibetans in India by retracing the history of three generations, their hopes and aspirations in a rapidly changing world.
Through a series of portrait and archive photos, Tashi Tobgyal, Kalsang Jigmé and Tsering Topgyal, three Tibetan photojournalists, pay tribute to the Tibetan people. It was in 1959 that the 14th Dalai Lama, the Tibetan government and many compatriots left Tibet to preserve the culture of their people and found refuge in India. Thanks to an innovative education system, democratisation and the support of international organisations, the Tibetan community has managed to preserve its culture for 60 years.
Like Parc Merl and Place Laurent in Luxembourg-Limpertsberg, Place de Strasbourg, located in the heart of the capital's Gare district, now hosts temporary outdoor exhibitions thanks to sixteen new structures set up on the fence of the playground.
The current exhibition will remain on display until Thursday 2 December 2021.
Another exhibition entitled "La vie… more or less – part" ("Life... more or less - part 1") by George Edward Nixon is also planned.