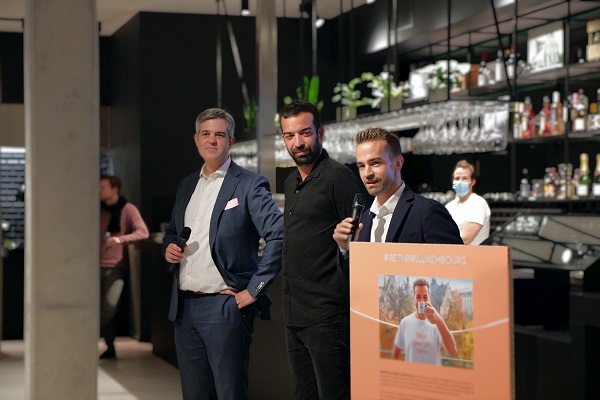 Credit: INNSiDE
Luxembourg artist Eric Mangen unveiled his new works for INNSiDE Luxembourg hotel at an afterwork last week.
Following its official opening in May 2021, INNSiDE by Meliá Luxembourg commenced on a project in collaboration with Eric Mangen.
On 23 September 2021, the local artist presented the fruits of this collaboration (a series of works created exclusively for INNSiDE Luxembourg) to guests at an afterwork at the hotel.
"We had mentioned in May the desire to collaborate with renowned local artists to, on the one hand, decorate the hotel, and on the other hand, give them a showcase for their creations. And we couldn't have done better than Eric Magnen!", noted Javier Segura, resident manager of INNSiDE by Meliá Luxembourg. "His style harmonises perfectly with the urban and lifestyle spirit of INNSiDE and we are proud to have been able to count on his multiple talents during this project".
From now on, the exterior wall along the entrance of the hotel is decorated over a length of 36 metres with designs characterised by the concept of "Motion & Emotion", the use of many colours and textures and the free movements of Eric Mangen. Three canvases created by the artist also add a touch of colour to the "de Gaart" restaurant.
"The wall was the perfect canvas for me, as I was able to express myself freely. I am proud of the end result and I am sure it will please the clients of INNSiDE Luxembourg", commented Eric Mangen, who is living and creating art in Luxembourg.
As well as adding a creative touch to the hotel, this collaboration contributes to INNSiDE's aim of creating a link between hotel guests, Luxembourg and the local culture.
"For us, this is just the beginning. Through this kind of initiative, we wish to regularly highlight local artists as well as give them the opportunity to express themselves and to show themselves to our national and international clientele", added Javier Segura.