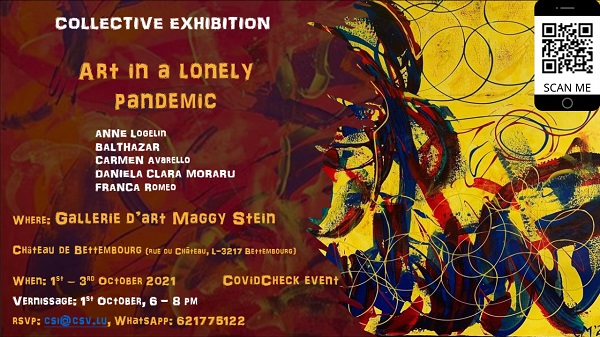 The vernissage of a new art exhibition, entitled "Art in a lonely pandemic", will take place at Bettembourg Castle this Friday 1 October at 18:00.
This collective exhibition depicts how different people have experienced the pandemic through the emotions and the intensity expressed in their work.
The unexpected pandemic brought with it an overwhelming amount of uncertainty. Difficulties were faced by everyone, but even more by those who were alone, with no family in Luxembourg. Similarly, the self-employed suffered from their activities being shut down without enough financial support to thrive.
How did different people deal with the loneliness imposed by the lockdown and the anxiety that if they caught the virus there would be no one around to support them with daily necessities? How did people handle the fear that they might not have enough income to pay their company's rent or their employees' salaries? The answers to these questions were not easy to find for many people. Yet, there were some for whom painting and other artistic activities proved to be a great refuge.
The funds collected from this exhibition will be donated to a social project aimed at reducing loneliness and bringing people together during Christmas: the Christmas Community Dinner (further information: https://fb.me/e/ApT0VUip).
The exhibition will be open until Sunday 3 October 2021 at 20.00. Several tours are organised this Saturday and Sunday at 11:00, 15:00 and 18:00.
This is a CovidCheck event. Please RSVP via email: csi@csv.lu or via WhatsApp: 621-775122, clearly mentioning the date and time you wish to visit the exhibition.
The project is supported by CSi, CSV Bettembourg and the moving company GreenMovers.lu.
For further details, contact Clara Moraru, curator of the exhibition "Art in a lonely pandemic", via email: clara.moraru@languages.lu or tel.: 621-775122.