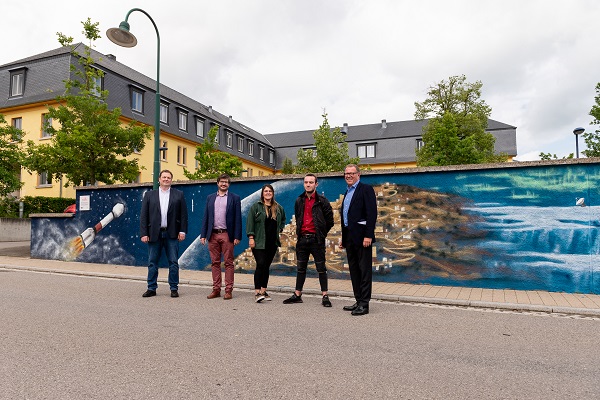 Credit: Marie De Decker
Supported by the municipality of Betzdorf, Luxembourg satellite company SES and Institut Saint Joseph, an organisation for people with intellectual disabilities belonging to the elisabeth group, recently came together to work with local artist Alexandra McKell to create a mural that brings together their joint beliefs of building a connected and inclusive world.
Designed by the artist and painted jointly with the residents of Institut Saint Joseph, the mural reflects the story of an innovative satellite system from launch to operations in space to delivering connectivity on land, at sea and in the skies. In addition to painting the wall, Alexandra McKell worked with several residents of the institute through a dedicated art workshop to teach them how to create a mural.
The mural comprises two walls (24 and 45 metres long respectively) and can be seen on the Institut Sait Joseph's external walls on Rue de la Grotte in Betzdorf.
The mural explores the theme of connectivity and inclusion and depicts how satellites can positively impact people and communities around the world, enabling them to enjoy shared experiences. Each side of the mural includes the handprints of participants, representing the organisations' commitment to diversity and inclusion.
"We are proud to be part of this project from the very beginning and to present the results of the initiative, which has enabled Institut Saint Joseph's residents to express themselves and, in doing so, bring a new splash of colour to our municipality. It is also an excellent example of collaboration of two Betzdorf-based organisations and the local artist community, that went beyond the standard thinking, giving room for creativity and supporting inclusion", commented Jean-François Wirtz, Mayor of Betzdorf.
Steve Collar, CEO of SES, said: "At SES, we aim to create a connected world and this expands beyond satellite connectivity to connections we have to people and communities, and to Betzdorf which has been a home to SES for the last 35 years. There is nothing more rewarding than to partner with a local organisation with whom we share common values to make this world a better, more inclusive place, and work on something together".
"Inclusion is an important topic for our organisation and residents", added Christian Happ, Head of Institut Saint Joseph. "Not only do we expect the world to open up and accept differences, we ourselves are open to the world and embarking on new adventures. This initiative of doing something creative together, and telling our common story jointly with SES and Alex McKell, is tremendous. It has given some of our residents confidence about their art capabilities and make them feel like they are part of something big, and others the opportunity to acquire new useful skills of painting murals".
Alexandra McKell concluded: "I am grateful for the opportunity to work with the residents of Institut St Joseph and with SES, and for the room for creativity that was given to me at design stage. Space and satellites are inspiring and benefit us in ways that we are sometimes not even aware of, and it's truly a fascinating subject. I hope that, through this project, we have also been able to raise public awareness of people with disabilities. There is a bunch of incredible talent here and their dedication to this project was outstanding".