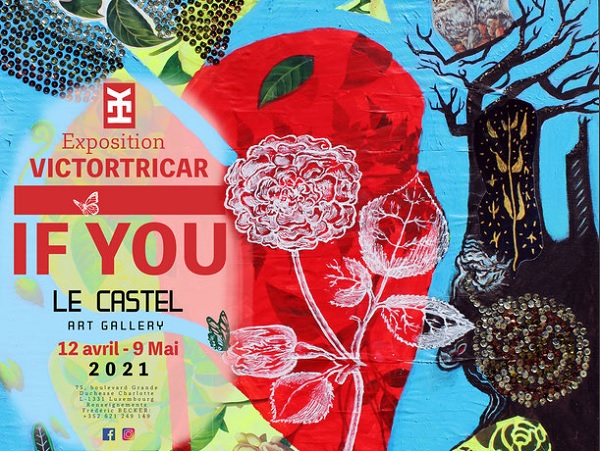 The Le Castel art gallery (at 75 boulevard Grande-Duchesse Charlotte, L-1331 Luxembourg-ville) will host an exhibition entitled "If You" by artist Victor Tricar from 12 April to 9 May 2021.
The artist Victor Tricar is a member of the Hariko artist collective and has exhibited his work in Paris, Los Angeles, Panama and Luxembourg. Each year, he participates in the famous Luxembourg Art Week.
"IF YOU" brings together 28 works painted in acrylic with collage and mixed media, on wood, canvas and vinyl, etc.
Born in Paris in 1981, Victor Tricar livers in Luxembourg and regularly holds workshops at the Hariko social project and also organises art exhibitions. He studied art including at the prestigious Académie Julian-Penninghen which counts amongst its students Matisse, Léger, Nolde, Mucha and others. He became a freelance graphic artist and, in 2006, on returning from a year in Norway, he painted his first canvas and, in 2007, exhibited his work for the first time. He then lived for 3 years in Los Angeles and taught at Le Lycée français de los Angeles" and exhibited at different places including the Edgmar Center for the Arts. He then lived for 5 years in Panama where his art was successfully shown in a gallery located in the historical and chic district of the capital city.
Opening hours:
Mon & Tue: 14:00 – 18:00
Wed & Sat: 10:00 – 18:00
Thu & Fri: 10:00 – 19:00
Sun: 11:00 – 15:00
For details, see https://www.lecastel.lu/victor-tricar/ and https://wortshop.lu/collections/victor-tricar