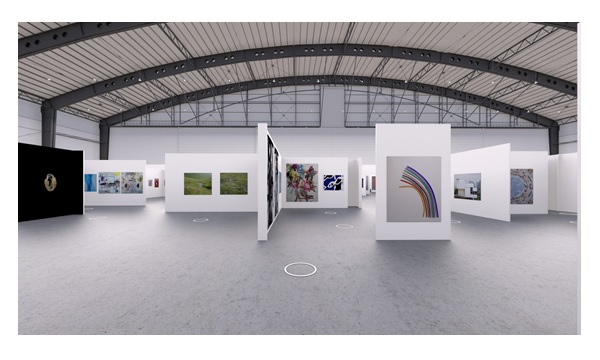 Luxembourg Art Week 2020; Credit: © Luxembourg Art Week 2020
The 6th edition of the Luxembourg Art Week was originally scheduled to take place from 20 to 22 November at the Halle Victor Hugo in Luxembourg-Limpertsberg; due to the COVID-19 pandemic, it was re-organised to take place online instead: it comprised a 3D virtual tour and an online catalogue with more than 1,500 works by 450 international artists.
Developed in collaboration with the Leipzig-based software design agency cura3D, the online tour of the fair, which for nearly two weeks allowed art lovers and collectors from all over the world to browse among the virtual booths of 70 exhibitors, exceeded the organisers' highest expectations by attracting no less than 30,000 visitors from 90 countries (to be compared with the 12 - 15,000 visitors during the event's physical editions in previous years). With more than 150,000 views, the digital offering was a resounding success and confirmed that moving into the virtual world has enabled the fair to significantly increase its international appeal.
This is also reflected on the commercial side, with sales to collectors from five continents – proof that the fair is reaching well beyond the regional context. One of the keys to this success is undoubtedly its capacity for renewal, as evidenced by the new Focus section, which this year showcased the young Brussels scene.
All the while, Luxembourg Art Week has deepened its local commitment by renewing its partnerships with numerous institutions in the region such as Casino Luxembourg – Forum d'art contemporain, which contributed the off-site installation No-Man's-Land by the Belgian artist Arnaud Eubelen. This also extends to the new collaboration with the Rotondes in the framework of the LEAP – Luxembourg Encouragement for Artists Prize, which underlines the role of Luxembourg Art Week as a major driving force behind the regional cultural dynamic, and to the programme of exclusive guided tours that enabled participants to take a look behind the scenes of Luxembourg's flagship institutions, including the National Museum of History and Art and the National Audiovisual Centre (CNA).
The Collectors' Guide published in collaboration with Creutz & Partners, for which 15 couples of collectors of Luxembourgish nationality, or based in Luxembourg opened the doors of their homes to us, toped off a broad and varied cultural offer that is the cornerstone of the fair's growing popularity.