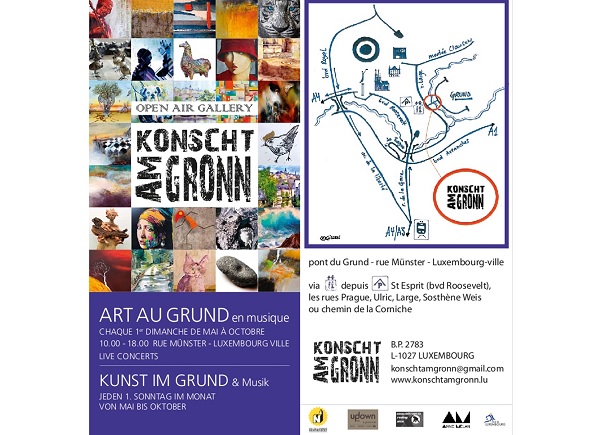 The first exhibition of the 15th edition of "Konscht am Gronn" (Art in the Grund) will take place this Sunday 2 August 2020 in Luxembourg-Grund.
Organised for nine years with the support of the City of Luxembourg in Rue Münster on the Grund bridge, this open-air exhibition offers visitors the opportunity to discover and acquire a multitude of works of art and original creations (paintings, drawings, sculptures, ceramics and photographs) from 20 artists of eight different nationalities.
This year's Art in the Grund will offer visitors a lighter version of concerts: backing music without vocals will be performed by international musicians from 14:00 to 15:00.
Art in the Grund will take place every first Sunday of the month until October, in strict compliance with current health recommendations in the fight against coronavirus.
Municipal bus line 23 will not serve the Grund district during this event. However, an N23 shuttle to the Grund will be set up from Luxembourg Gare (platform 6), departing at the same times as line 23, both at the central station and at Grund.