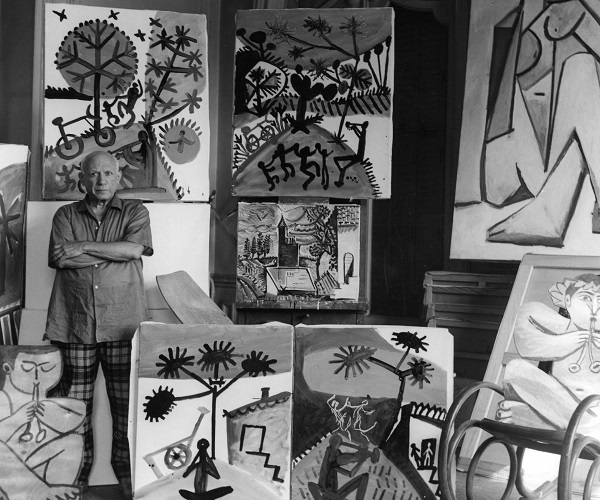 Pablo Picasso with his artworks; Credit: Edward Quinn
The organisers of the Luxembourg Art Fair, taking place this year at Luxexpo The Box from 5-8 December 2019, have announced that the 4th edition of the fair will be presenting original works by Pablo Picasso.
This year, 90 international galleries from around the world will give visitors the opportunity to discover the original works of renowned artists as well as those of emerging young talents. Amateurs, art enthusiasts and/or collectors will be able to acquire works ranging from affordable to prestigious. From painting to sculpture to photography or ceramics, all the arts will be presented, as well as a wide spectrum of contemporary art from the 1950s to today.
This year, the fair rolls out the red carpet for the presence of the Bel Air Fine Art Gallery, as well as the Swiss gallery WOS and its original works by Picasso. The WOS Gallery, born from the passion of three Swiss gallery owners determined to share their know-how, focuses on the passage between the 20th and the 21st century through a plethora of paintings, sculptures and photographs seen as the culmination of a historical development of art and not as individual objects.
Next month, the Luxembourg Art Fair will host a special exhibition of works by Pablo Picasso: original drawings, prints, unique prints, ceramics, but also old photographs of the artist, made by his friends and photographers Edward Quinn and René Burri.
"Pablo Picasso is one of the only artists of the twentieth century who considered the production of prints or lithographs as an art in its own right," said Claudius Ochsner, one of the three gallery owners at the head of the WOS gallery and a specialist in Picasso's works. Some lithographs are printed in only two or three copies.
This year's Luxembourg Art Fair will be held at Luxexpo The Box, Entrée Sud - Hall 8 (10 Circuit de la Foire Internationale, L-1347 Luxembourg-Kirchberg). The fair will be open to the public on Thursday 5 December from 18:00-23:00, on Friday 6 December from 16:00-22:00 and on Saturday 7 and Sunday 8 December 2019 from 11:00-19:00.
For more information, visit www.luxartfair.com.