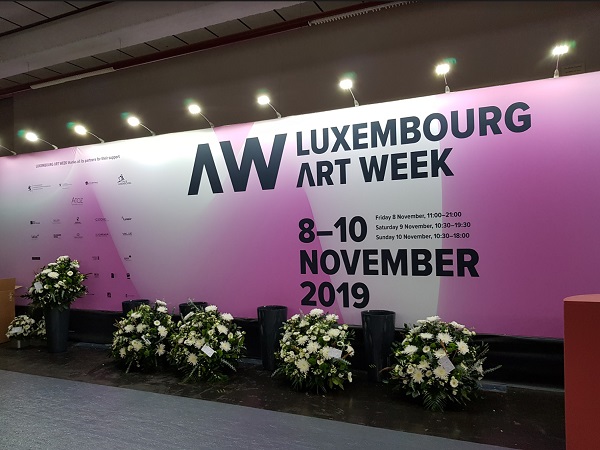 Luxembourg Art Week 2019; Credit: Jazmin Campbell
The Luxembourg press gathered this morning at Halle Victor Hugo in Limpertsberg, where preparations are currently underway for the fifth anniversary edition of Luxembourg Art Week, taking place from 8-10 November 2019.
Discussing this year's innovations at a press conference, Luxembourg Art Week CEO Alex Reding highlighted the desire to enlarge the event for its fifth anniversary, as well as "developing its international appeal". Indeed, the fifth Luxembourg Art Week brings together over 65 exhibitors, compared to 48 last year. Mr. Reding attributed the expansion of the art fair (by more than 1,000 m2) in part to its collaboration with the Lycée de Garçons de Luxembourg, thanks to which Luxembourg Art Week 2019 is being held in the Halle Victor Hugo. In addition, this collaboration allows the school to incorporate class visits to the fair.
Regarding the international aspect of Luxembourg Art Week, Alex Reding emphasised the continued desire to showcase the works of local artists as well as those of artists from further afield. For instance, this year features exhibitors from Luxembourg, Belgium, Germany, the Netherlands, France, Switzerland and Austria, as well as Singapore, the US (New York) and Colombia.
In addition, Alex Reding stated that this year's Luxembourg Art Week incorporates a programme of events touching on the widest possible range of topics, from conferences on art and the financial and banking sector to politics. He also highlighted the creation of a new space, "First Call", reserved for international galleries exhibiting their works in Luxembourg for the first time; this year features seven such galleries. The fair also comprises a "Main Section" (34 contemporary art galleries from across Europe) and a "Take Off" section that promotes the works of emergency contemporary artists.
Meanwhile, Marc Hostert, President of the Cercle Artistique de Luxembourg (CAL), who was also present at the press conference, highlighted the CAL's efforts to make its own fair, the "Salon du CAL", more international. Indeed, the CAL fair has been held alongside Luxembourg Art Week for the past five years. Mr. Hostert also emphasised that the CAL fair, first held in 1896, will be held over a longer period of time this year, from 2-14 November 2019, thus allowing visitors to explore the fair before, during and after the fifth Luxembourg Art Week. A total of 46 artists, selected by an international jury, will be exhibiting their works on this occasion at CAL's premises in Tramschapp. Marc Hostert finally recalled that this year's winner of the CAL fair's "Prix Révélation" 2019, was Pit Molling. Since then, the CAL has named the artist Franz Ruf as this year's winner of the fair's other prize, the "Prix Grand-Duc Adolphe".
Luxembourg Art Week 2019 kicks off tomorrow, Thursday 8 November, and will run until Saturday 10 November 2019.
Vernissage
8 November 2019 from 18:00–21:00
Opening hours
8 November 2019 from 11:00–21:00
9 November 2019 from 10:30–19:30
10 November 2019 from 10:30–18:00
For more information, visit https://www.luxembourgartweek.lu/en.