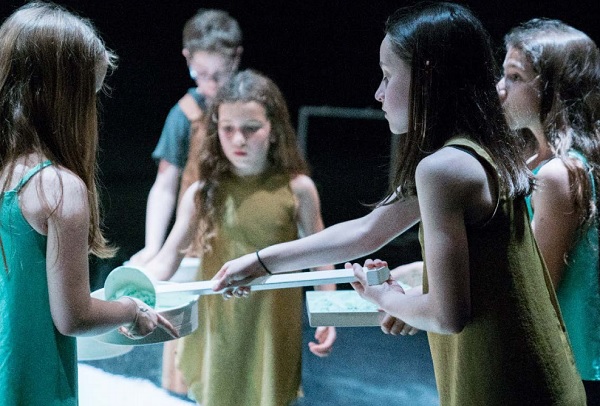 On Wednesday 5 June 2019, the Rotondes hosted the premiere of "Drawing on Steve Reich", the ambitious artistic project designed by Stéphane Ghislain Roussel combining the minimalist music of the American composer and the childish imagination.
For several years, the artist and director Stéphane Ghislain Roussel has focused his research on artistic interdisciplinarity. With Drawing on Steve Reich, he pushed this research further by exploring the possibilities of transposing a flow of sonic harmonies in colours and materials.
It was a full house on Wednesday evening for the premiere at Rotondes. Ten members of the United Instruments of Lucilin ensemble were joined by nine young vocalists and musicians, to whom the Michelle Foundation, under the aegis of the Luxembourg Foundation and through the National Cultural Fund, had awarded support grants specifically for this project. They performed Steve Reich's "Music for 18 musicians".
During the 60 minutes of the Reich piece, a group of eight children painted a large, mandala-like fresco. Their movements were both free, natural and composed. The image they created live was the result of workshops led by Lucie Majerus at the Mudam Luxembourg - Museum of Modern Art Grand-Duc Jean and their gestures had been developed with Ela Baumann at the Rotondes.
The result was a real synaesthetic journey that lets audiences see and hear music, through the poetry of children's gestures. Much more than a simple transposition of music, Drawing on Steve Reich offers a ritual where the rhythm of the score, colours, materials and moving bodies converge to form an organic experience.
The project is a coproduction of PROJETEN Luxembourg, the Rotondes, the Mudam Luxembourg - Museum of Modern Art Grand-Duc Jean, United Instrument of Lucilin - Luxembourg, and has received the generous support of the Fondation Michelle, fondation under the auspices of the Luxembourg Foundation, the National Cultural Fund, the Ministry of Culture Luxembourg and the Independence Foundation.
The next performance (which is also the last at Rotondes) will take place tonight at 19:00.