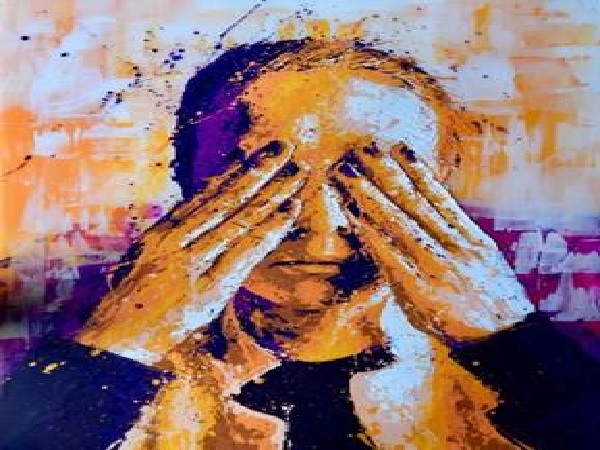 Gullible by Raphael Gindt;
The Consulate General of Luxembourg in New York has announced a group exhibition featuring Luxembourg street artist Raphael Gindt from 20-22 April 2018.
The works of Luxembourg-born urban/street artist and muralist painter Raphael Gindt will be featured at the Art Expo New York later this month.
Raphael Gindt started painting in the streets as a teenager until he became a professional independent artist. Established in the international Street Art scene, he is among the rising starts of the new generation of Street Art. The 23-year-old artist is known for his creative way of using and mixing various styles and techniques. While most of his pieces are very expressive, others take up a rather surrealist look.
Gindt is also known for his deep and spectacular large-scale murals as well as for his more delicate glass sculptures. He applies paint onto various surfaces by dripping, splashing and spreading it with a palette knife. Each of his portraits represents people from a certain phase of his life.
In 2016, he also founded two non-profit organisations that promote artistic education (Street Art Culture A.S.B.L. and Urbano Limits a.s.b.l.). His urban artworks can be seen throughout Europe, including in Belgium, Germany, France, the UK and Luxembourg.
Gindt's works will be on view at the Art Expo at Pier 94 - New York (711 Twelfth Ave @ 55th St/West Side Highway) between Friday 20 and Sunday 22 April 2018 at Booth 351 (World Wide Art/Artavita). The Opening Night Party on the Friday will take place from 16:00-20:00. Opening hours: 20/04 from 10:00-20:00; 21/04 from 11:00-19:00; 22/04 from 11:00-18:00.
Tickets cost $40 - $20 - $15 Students – Free for children 11 years old or under, via https://www.eventbrite.com/e/artexpo-new-york-solo-foto-solo-2018-tickets-35016012837.