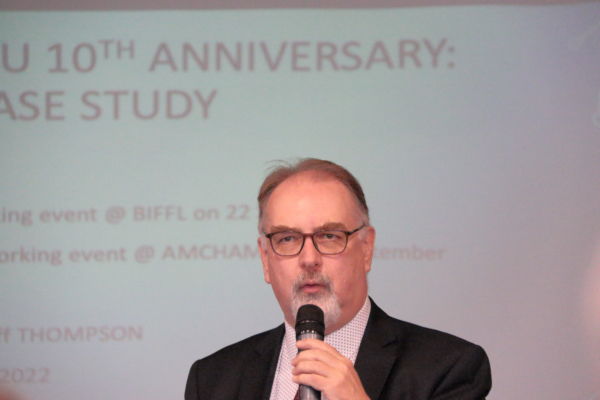 (Above): Geoff Thompson, owner of G-Media Sàrl / creator of Chronicle.lu; (below, L-R) Mariana Florea, President of The NETWORK; Paul Schonenberg, AMCHAM Chairman & CEO; Anne Perä, Administration Assistant at AMCHAM; Jazmin Campbell, G-Media Sàrl CEO; Credit: Kangkan Halder / Chronicle.lu
On Monday afternoon, the American Chamber of Commerce in Luxembourg (AMCHAM) and Chronicle.lu teamed up for an ABAL luncheon celebrating the 10th anniversary of this English-language online newspaper.
This special business networking event took place on the top floor of the DoubleTree by Hilton Hotel in Luxembourg-Dommeldange, which offers a panoramic view. Guests first enjoyed a networking reception before tucking into a three-course meal whilst listening to a presentation by Geoff Thompson, who launched Chronicle.lu in 2012.
During this presentation, which took the form of a case study, Geoff explained how the process had involved setting up a company (G-Media Sàrl), developing a business plan, investing and finding the right staff. He began by presenting his professional background in the domains of IT consultancy, event management and media, among others. Regarding the latter, Geoff launched and operated the community-focused online newspaper Station.lu in the early-2000s and was later involved in New Media Lux's 352 weekly magazine and the Business Review monthly publication.
Concerning G-Media Sàrl and Chronicle.lu, Geoff explained that the company had taken a low-risk approach (no bank loans or overdrafts) and that the business model was based on advertising and sponsorship rather than a paid subscription model. The company is centred around three pillars: online publishing (Chronicle.lu), event management and, to a lesser extent, marketing communications (MarCom). Geoff noted how the Chronicle.lu team had grown from just him to two full-time journalists publishing six days a week, including international news (sourced from Reuters) and two original articles per day – in line with the new press aid scheme (Aide à la presse) for which Chronicle.lu recently became eligible. In April 2021, Jazmin Campbell, who has worked as a full-time journalist at Chronicle.lu since 2017, took over as Managing Director of G-Media Sàrl, whilst Geoff stayed on as owner of the company; in November 2021, Kangkan Halder joined the team as a full-time journalist.
Geoff explained various other aspects of the business, such as IT outsourcing (and the website's revamp in 2016) and administration (e.g. accounting), as well as the editorial focus of the online newspaper (e.g. a strong focus on the business and social communities) and potential future projects. He concluded by noting that the past ten years have gone by quickly, with some of the challenges having included delegation, finding good staff, obtaining funding / investment and working towards obtaining the press aid offered by the Luxembourg Government. Nonetheless, he felt that his varied experiences in different sectors had "definitely helped" in overcoming such challenges.
Paul Schonenberg, Chairman and CEO of AMCHAM, thanked Geoff for his insightful presentation and expressed his hope that those present at this event would attend future ABAL luncheons. He also thanked his team at AMCHAM for their efforts in putting together this event as well as publishing AMCHAM's weekly online newsletter.
Last week, Chronicle.lu held a first anniversary event, with a focus on the social community, in the framework of the British & Irish Film Festival Luxembourg (BIFFL). To learn more about this event, see: https://chronicle.lu/category/film-festivals/42581-chronicle-lu-marks-10th-anniversary-with-solidarity-with-refugees-film-event.