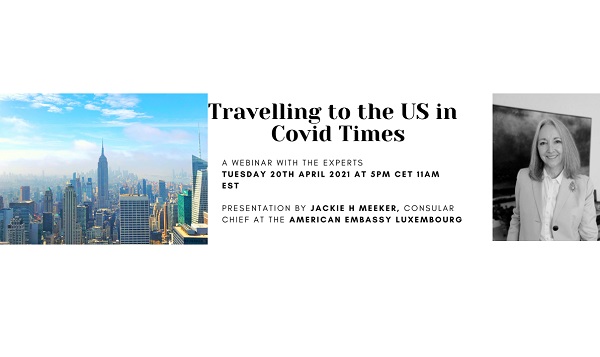 The American Chamber of Commerce in Luxembourg (AMCHAM) has announced that it is organising, in partnership with the Luxembourg-American Chamber of Commerce (LACC), a live webinar on "Travelling to the US during Covid times" on Tuesday 20 April 2021 at 17:00.
AMCHAM is holding this online event in response to frequent requests for information from its members and the public on what is needed to travel to the United States (US), whether for business or holidays, in the context of the COVID-19 pandemic.
To provide an update and clarification, AMCHAM asked Jackie H. Meeker, Consular Officer at the US Embassy in Luxembourg, to lead this webinar. Ms Meeker will explain the most current details on US travel for business and pleasure and answer any questions attendees might have on this subject.
Questions can be submitted in advance via email: jane@amcham.lu or on the day itself in the event chat box.
This event is free but prior registration is required. Zoom codes will be sent out the day before.
For further details and to register, visit www.amcham.lu/events/travelling-to-the-us-during-covid-times.