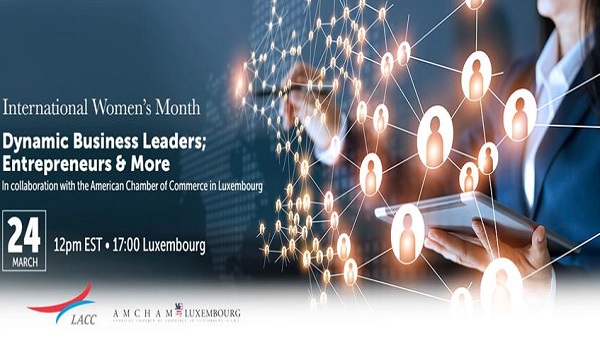 The Luxembourg-American Chamber of Commerce (LACC), in collaboration with the American Chamber of Commerce in Luxembourg (AMCHAM), will host a panel webinar event to celebrate International Women's Month, on Wednesday 24 March 2021 at 17:00.
The event, entitled "Dynamic Business Leaders; Entrepreneurs & More", will feature an expansive panel of women across many disciplines representing the best of women in business in the United States (US) and Luxembourg.
Featured speakers:
- Moderator: Luxembourg-based Lisa Burke, who has over 20 years experience as a TV presenter, reporter and interviewer;
- Panelist: Liz Beuer, a multifaceted marketer who boasts a diverse professional background in both New York and Luxembourg within fashion, digital media, wholesale, production and e-commerce;
- Panelist: Natasha Franck, Founder and Chief Executive Officer (CEO) of Eon, a company which powers connected products and sustainable and circular business models across fashion retail;
- Panelist: Isabelle Steichen, who grew up in Luxembourg and moved to the US in 2013. Since moving to New York City, she has worked closely with founding teams for various early stage VC backed startups in the food and tech space;
- Panelist: Genna Elvin, Co-Founder and Chief Tada Office of Tadaweb, a growth stage technology company based in Luxembourg, with offices in Paris and London;
- Speaker: Susan Alexander, a native New Yorker who has lived in Luxembourg since 1989. She has had a non-linear career path that has included working as a professional musician, being ordained as a Presbyterian minister, heading derivative and fixed income research at a Wall Street firm and founding a web site and web application development company, among others;
- Speaker: Sylvie Schmit-Verbrugghen, an expatriate with over 28 years of experience working in the relocation industry. She established the privately-owned company European Relocation Services in March 2004.
Tickets for this online event (Zoom) are free but registration is required at www.amcham.lu/events/dynamic-business-leaders-entrepreneurs-more-24th-march-2021.