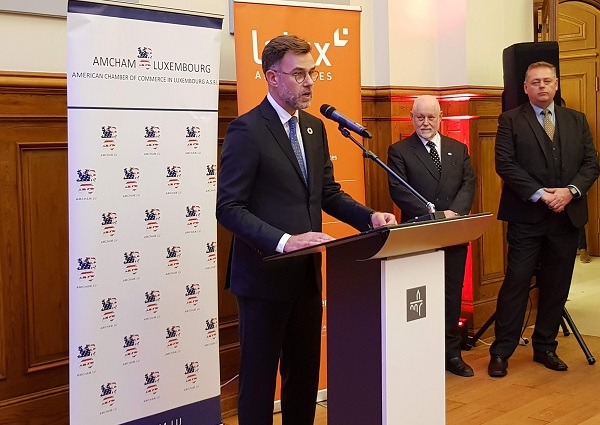 Franz Fayot, Luxembourg's Minister of Economy, Minister for Cooperation Development and Humanitarian Affairs; Credit: Jazmin Campbell
On Monday evening, the American Chamber of Commerce in Luxembourg (AMCHAM) held its Winter Reception at the historic BCEE building at 19 Avenue de la Liberté in Luxembourg City.
Members of the Luxembourg business community gathered to listen to guest speaker Franz Fayot present his vision, plans and strategy for the Luxembourg economy in his new role as Minister of Economy.
In his introduction, AMCHAM Chairman and CEO Paul Schonenberg explained that one of the main aims of the event was for the international community to get to know their new Economy Minister and vice versa. Mr Schonenberg was especially pleased that AMCHAM was the first business chamber to host Minister Fayot since the latter took office earlier this month.
In his speech, Franz Fayot first emphasised the significance of the fact that his first address to the business community in Luxembourg was at an AMCHAM event. He considered this significant for two reasons, one personal due to his own links with the UK and the other due to the historic US-Luxembourg relationship. Concerning the latter, Minister Fayot recalled the emigration of many Luxembourgers to the US in the 19th century in their pursuit of economic opportunities. He added that these ties had continued and even strengthened in recent years with the arrival of major US tech and financial companies like Amazon (and soon Google) and JP Morgan and significant US investment in the Grand Duchy.
Despite their different sizes, Luxembourg and the US also "share a common vision to develop the commercial space sector" according to Franz Fayot, who added that he would continue the work of his predecessor Etienne Schneider in this area. On this topic, Minister Fayot also clarified that innovation in space was as much about asteroid extraction as it was about finding "solutions to the environmental […] challenges our planet is currently facing".
Also on the topic of the environment and climate action, Franz Fayot stressed the importance of the EU Green Deal and Luxembourg's ambitious climate and energy plan in cutting greenhouse gas emissions, among other things, as well as the new national industrial strategy, which aims to "bring economic value whilst improving people's daily lives".
Regarding digitalisation, the Economy Minister recalled that the "digital movement brings unprecedented data", which will need to be mined according to Luxembourg's high privacy standards. In this regard, he stressed that Luxembourg is committed to artificial intelligence (AI) and setting a "clear framework for a trusted and sustainable economy".
On the specific subject of his mandate as Economy Minister, Franz Fayot stressed the importance of improving the quality of life of people living and working in Luxembourg. He added that promoting green and clean tech was one of his priorities, that is to say developing an "ecosystem that creates value whilst reducing pollution and poverty". He also drew on his experience as newly appointed Minister for Development Cooperation and Humanitarian Affairs, which he said offered him a "different perspective on economic development". For instance, his recent official visit to Cape Verde confirmed that there was much that could be learned from this country in terms of innovation and renewable energy.
Franz Fayot added: "Sustainable smart economic development that serves the people is at the heart of my political objectives". In this regard, he recalled that diversity is also an important driver of innovation, not least in Luxembourg.
The Economy Minister again stressed the significant business relations that exist between Luxembourg and the US. He concluded that AMCHAM helps contribute to the "sustainable future" of these relations and the economies of both countries.
The address was followed by a networking cocktail and walking dinner, during which guests could raise their issues of interest and concern with Minister Fayot.