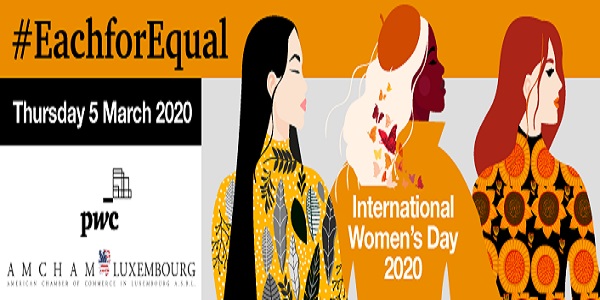 The American Chamber of Commerce in Luxembourg (AMCHAM) and PwC Luxembourg will hold their third International Women's Day panel presentation on Thursday 5 March 2020 at PwC Gasperich, from 16:00 to 20:00.
Organised ahead of International Women's Day 2020, celebrated on 8 March, this new edition will address the ways in which creativity and innovation can contribute to an #EachforEqual world.
The panel features four well-accomplished and inspiring leaders from both the private and public sectors with local and international influence: Alberta Brusi, COO of City Bank; Djuna Bernard, Vice President of Dei Gréng; Norbert Becker, Independent Director or Board Member of multiple companies and chairman of the board of ATOZ; Tilly Metz, Luxembourg MEP (Dei Gréng). Lieven Lambrecht, HR Director at PwC Luxembourg, is the event's facilitator.
The speakers will each share their "lessons learned" and their reflections about questions such as: Can gender balance unlock creativity and innovation? How does the team work among genders create better value and impact our professional life? Is gendered innovation a key element in the New Economy?
Registration is obligatory at https://www.amcham.lu/events/iwd-international-womens-day-5th-march-2020/.