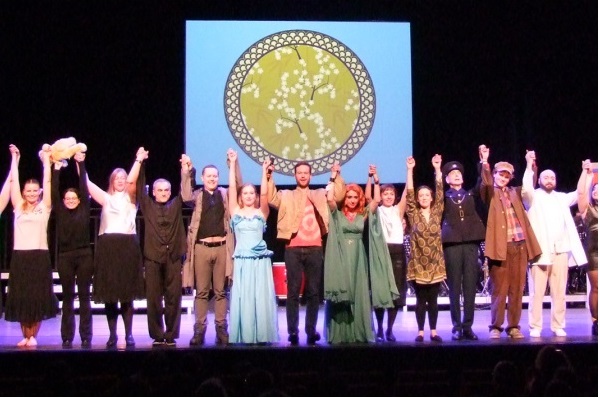 Tom and the Magic Door, Pirate Productions; Credit: Chronicle.lu
Pirate Productions are currently putting on a new show, Tom and the Magic Door, at the Kinneksbond in Mamer with five performances from Thursday 9 to Sunday 12 November 2023.
Chronicle.lu got the opportunity to attend the Opening Performance on Thursday 9 November.
Synopsis: The tale of one man's quest for freedom. A musical journey guided by the songs of Madonna, Sting, Enya and other pop musicians. A traveller is asleep on a bench in a forlorn bus station, a guitar case his sole luggage. Where he comes from is forgotten, where he goes unclear. Looking for his true path and helped by a mystical grocery store owner, a drug dealer, a mysterious lady in blue, a kung fu master and a policeman, he will explore places hidden behind a magic door where space and time behave strangely.
Directed by Julien Farlin, with Eric Gherardi as Musical Director, Jan Pieper as Kung Fu Master and Caroline Kaufhold as Choreographer, it is set in two acts, each with eight scenes. The production has a 20-strong cast, six musicians, nine dancers and six singers, not forgetting over 20 other people in the production team, together illustrating what is required to pull off a such a production.
Busking at a bus station, Tom (Joe Canning) meets up with a number of characters including Mickey (Bruno Mackaenzie) a drug dealer, Harbogast (Steve Wilkie) a police officer, Soul (Artemios Vogiatzis) a storekeeper, and his teddy bear, Mariana Trench (Daniel Halici) a fitness / martial arts fanatic and Joanna (Natasha Liati-Jones) who appears right at home on the stage, oozing charisma and stage presence. She puts Tom under her spell and he goes through the Magic Door to an alternative world where he dances with the Woman in Blue (Filippa Christiansen). Is he hallucinating? Maybe he is under the influence...?
In Act II, Tom finds himself on an island where he meets the mystical Calypso (Madalina Marincu) whose captivating voice is perfect for her character. He returns to the store and reveals why he is busking in the first place, despondent from his failures and trying to find his future path. Joanna revitalises him and he returns to the bus station. By now, Soul has taught Tom how to read people; he meets the Woman in Blue again but this time knows how to differentiate reality.
This is a very different production than Pirates' usual fare, with modern music such as "Sweet Dreams" by the Eurythmics, a song from the 80s, and "Fly Like an Eagle" by the Steve Miller Band in the 70s. The cast is a mix of established Pirate members and newcomers, a very health blend looking to the future. The drama scenes are interwoven with song and dance - some dancers put in stunning performances - to create a seamless artistic journey for the lead character.
One of the best qualities of the venue is the acoustics; this is no different for this production, with every seat in the house receiving the same audio quality.
With eight rows of seating on the parterre and 12 rows on the bleachers, the venue has a capacity of almost 400; some tickets are available for the other performances.