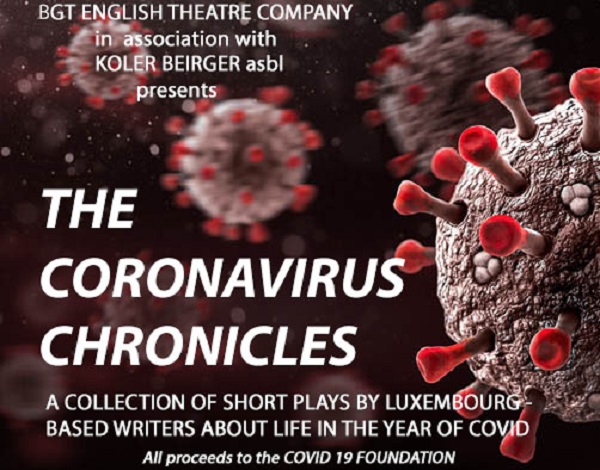 Following news of its postponement, the "Coronavirus Chronicles", a production by BGT English Theatre Company in association with Koler Bierger asbl, will now be performed on Thursday 25, Friday 26 and Saturday 27 February 2021 at Kinoler cinema in Kahler.
This is a collection of sketches covering the sorrow of families being separated, the shock of a loved one testing positive for COVID-19, the fear of catching the virus, the frustrations of working in the health service... and the ever present annoyance of working on Zoom. A mixture of scenes and monologues, comic observations and sad reflections, these plays show a cross-section in the life of a year (2020) which has changed the whole world.
Performances are scheduled for Thursday 25 and Friday 26 February at 19:30 and Saturday 27 February at 14:30 (matinée) and 19:30.
Tickets cost €15 for adults and €10 for students and can be reserved via email: the.bgt.lux@gmail.com. Tickets purchased for the original dates remain valid. Customers who do not wish to rebook their tickets or who wish to change the day of their booking should contact the BGT English Theatre Company at the email address above.