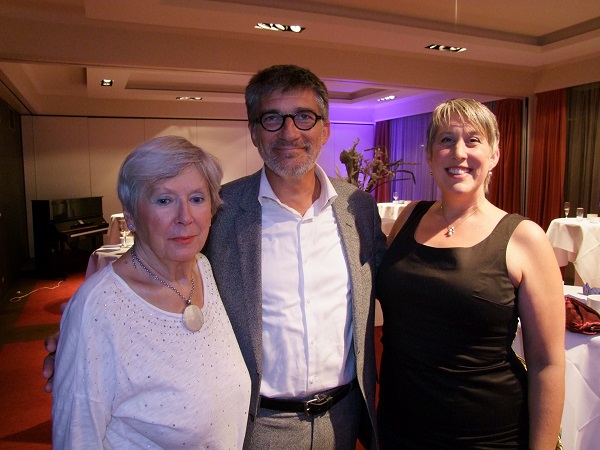 Current & Past Chairs of NWTC (L-R): Pauline Lloyd, Chris Albrecht, Christine Probst;
On Friday 19 October 2018, the New World Theatre Club (NWTC) in Luxembourg celebrated its 50th anniversary with a gala dinner at the Hotel Parc Alvisse in Luxembourg-Dommeldange.
Around 60 members and past members - including Adrian Diffey from the US and Jane Philpott, Julian Nest and Jacqui Milne from England - attended the glamorous event, the pre-dinner drinks reception being held with Jackie Fleming tinkling on the ivories.
This being an NWTC event, drama would undoubtedly be on the menu. A pre-dinner performance saw Christine Mitchell and Fionn McNulty-Seery recapping the news of 50 years ago, spanning everything from politics to culture, some to the tune of Beatles' classics. And the NWTC was born that year too, in 1968.
They reprised their roles between courses, with other NWTC members also taking their turn with both dramatic and sometimes comedic passages, taken from a series of their past productions. And the organising sub-committee - Angela Milne, Chris Mitchell and Chris Wilson - also put on an inter-table competition - the tables were all named after famous playwrights - in which everyone had to identify the various NWTC productions put on over the past 50 years, identified only by a series of props on display.
In its 50 years of existence, the NWTC has put on no less than 150 plays in English, and was 6 times winner of FEATS. From its 40th anniversary the club started its youth theatre which has put on 12 productions, with many members graduating to some of the club's main productions.
NWTC's next production - the start of their next 50 years - is an adaptation of The Seagull by Anton Chekhov, directed by John Brigg, from 28 February to 3 March 2019 at the Kulturhaus in Mersch. See www.nwtc.lu for details.