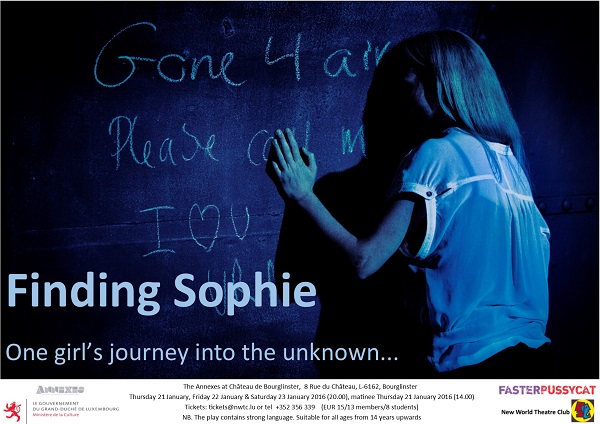 The New World Theatre Club (NWTC) in Luxembourg has announced that it will be putting on a production of Finding Sophie, by Janice Dunn, in January at the Annexes of the Chateau de Bourglinster; See below for information on performances and tickets.
"Part crime drama, part psychological tragedy; always compelling storytelling theatre. A fast, furious and sometimes fun 50 minutes, followed by the playwright/director and actor discussing writing and staging difficult subject matters."
A woman waits endlessly by the phone, for a call that may never come… Sophie is just a "normal" teenager; lots of friends and parties, schoolwork, and sometimes a fight with Mum or Dad. Same old, same old. Then one night, she goes into town and simply disappears. The police investigation into an ordinary family turns up something quite the opposite.
"Finding Sophie" is a play by writer/Fasterpussycat co-director Janice Dunn that explores the nightmare which faces thousands of families every year. She says "In Britain alone, the statistics for missing people are terrifying. Over a quarter of a million missing persons reports annually, and every year over 2,000 people never seen or heard from again. Most of these are young people under 25 years old. We wanted to make a play that looks at the human aspect of this issue, and how deeply it affects everyone it touches."
"Finding Sophie" touches on the culture of blame and digital whirlwind that now surrounds every crime or disappearance. Do we have an innate desire to help, or an insatiable appetite for others' unhappiness? Is it, there but for the grace of god...or the pornography of pain? The play and characters were partly inspired by the media scrum that the McCann family found themselves at the constant centre of, after the disappearance of Madeleine. (Although the events in Finding Sophie are entirely fictional, the procedures and statistics are completely accurate.)
Danish co-director of FasterPussycat, Maria Lohmann, who trained as a performer in England, plays all the roles in the show. Maria said "It is a huge challenge acting alone, but I am really enjoying it, much more than I thought I would. It is exciting, and of course very hard work. Changing from one character to another within the space of a few seconds can be pretty tricky, and we are working hard to make sure that element is smooth and clear."
"We are very excited to present this new play in Luxembourg", said Janice Dunn. "It is an intriguing, funny, surprising and human production, which will entertain and provoke audiences, both young and old. Though performed in English, it is easy for anyone with a basic knowledge of the language to follow. We use a lot of music and movement too."
NWTC has successfully staged Anglophone theatre in Luxembourg for over 45 years and has stted that it is delighted to be co-producing the play alongside FasterPussycat. Janice has tutored several times at the Luxembourg European Anglophone Theatre Summer Schools (LEATSS), which NWTC hosts each year. Members of NWTC, and their partners the European Summer School, appear in the production on video clips, playing a range of characters related to Sophie's story.
FasterPussycat is a new company. It was set up to bring current British drama to other audiences, and this is their second production following on from the five star success of last year's premiere show "Catastrophic Sex Music" which was staged in Denmark. Janice explained that they "are very grateful for NWTC's co-operation, and now for the opportunity to present our work to a new audience here in Luxembourg. We want to bring exciting, fresh work to an audience looking for a new experience in English. Our aim is to get plays produced as soon as they become available to a European audience. We are also looking to develop projects and events involving young people in a variety of roles."
This last element has been introduced to this show in a small way, with some of "Sophie's" text in the show being provided by three separate Danish young writers, at the invitation of the company.
Performances:
- Thu 21 Jan @ 14:00 & 20:00
- Fri 22 Jan @ 20:00
- Sat 23 Jan @ 20:00
Tickets €15 (members €13; students €8), available from email: tickets@nwtc.lu or tel: 356339.
Note: The play contains strong language. Suitable for all ages from 14 years upwards. The play itself runs for approximately 50 minutes and will be followed with a discussion session with Janice and Maria about how they approach issues when writing and staging a play with difficult subject matters such as this.
See www.nwtc.lu for more information.