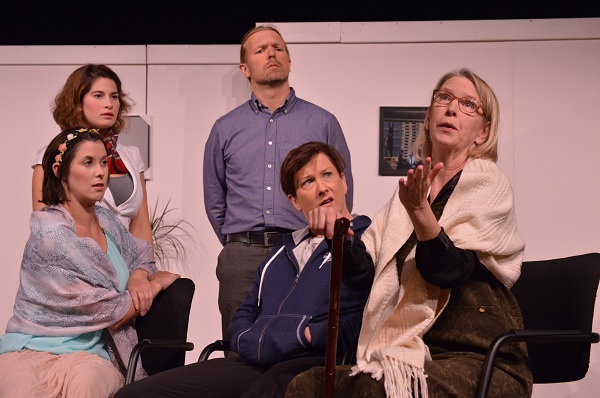 From 14 to 17 October 2015, Berliner Grund Theater and the New World Theatre Club will be offering a Luxembourg audience a double shot of comedy, showing how to get in - or out - of a marriage.
Directors Tony Kingston and Bjørn Clasen have decided to each act in the other's play, with Bjørn Clasen portraying the nervous target of female attention in the first play 'Husbands Supplied', and Tony Kingston taking on the role of interfering next door neighbour George in the follow-up 'Fifty!'.
Husbands Supplied
Written by Falkland L. Carey and now brought to the Luxembourg stage by Tony Kingston, 'Husbands Supplied' belies its 1930s origins with modern jokes and content.
The 'Husbands Supplied' agency, run by the no-nonsense - and potentially murderous - Mrs May, allows single women to find a significant other, declaring 'If you want a husband, or you lose a husband, come on down and state your requirements!'
However, Mrs. May and her secretary Miss Jones get more than they bargained for on a busy Tuesday morning as a stream of unusual characters arrive to create chaos and the clamour for the attention of one unsuspecting man ensues. But who will he choose?
Tony Kingston told Chronicle.lu that he had originally produced the play with schools, but had become intrigued to see the outcome of creating it with an adult cast. The result is a contemporary comedy turning traditional male-female married role models on their head.
Fifty!
By contrast, marriage may be destroyed in the second play, written by Archie Wilson, as Fran and her daughter Jessica attempt to arrange a surprise birthday party for cantankerous husband David as he turns fifty.
Little do they realise that David is having an affair with a much younger woman, and as preparations for the party get underway, featuring sausage rolls and Christiano Ronaldo's buns, the whole family has no idea what or whom is ready to burst through the door...
A classic British farce, 'Fifty!' is filled with laughs and innuendo aplenty, showing how an attempt to do something right can go so very wrong.
This double comedy bill will be performed at 20:00 on 14, 15, 16 and 17 October 2015 at the Forum Theatre on the Geesseknäppchen campus, 40, Boulevard Pierre Dupong, Luxembourg. Tickets cost €15 at standard rate, €12 for BGT or NWTC members and €10 for students. To purchase tickets contact tickets@nwtc.lu or +352 356 339.
Photos by Sarah Graham