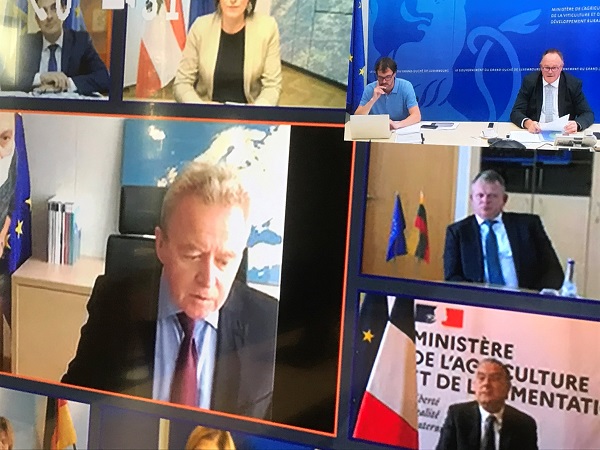 Top right: Romain Schneider, Luxembourg's Minister of Agriculture, Viticulture and Rural Development; Credit: MA
Luxembourg's Minister of of Agriculture, Viticulture and Rural Development, Romain Schneider, participated yesterday in the informal EU Agriculture and Fisheries Council via videoconference.
On this occasion, EU Agriculture Ministers discussed the European Commission's farm to fork and biodiversity protection strategies which are at the heart of the Green Deal and the EU's recovery plan and which mark an important step in the reform of the common agricultural policy (CAP). These strategies set common goals for creating more resilient farming systems, which are adapted to climate change and provide healthy food, while ensuring a decent standard of living for farmers.
Minister Romain Schneider expressed support for these new environmental and climatic ambitions of the CAP, but insisted on the spirit of cooperation between the Commission and the Member States, on the basis of subsidiarity, taking into account national particularities. For Luxembourg's Agriculture Minister, it is essential that these objectives take into account national specificities, such as the predominant presence of meadows and pastures associated with extensive farming, to be able to guarantee an adequate supply of healthy and quality food products. Minister Schneider will also remain attentive to the fact that the Member States have some leeway to be able to adapt these objectives to national action plans.
The Luxembourg Minister commented: "The health crisis has highlighted the importance of the population's food chain and consumers are increasingly demanding healthy, local and quality agriculture. Consequently we will continue the efforts of PAN-Bio 2025 which aims to reach 20% of the agricultural areas exploited in organic farming by 2025, just like the efforts of the plan to reduce pesticides knowing that Luxembourg will ban already using glyphosate from next year".
In this context, Romain Schneider also called on the European Commission to ban glyphosates at the European level while basing itself on the demands of citizens.
Finally, Minister Schneider pleaded for a substantial budget to ensure the successful implementation of the farm to fork and biodiversity protection strategies. He stated: "We need an additional budget to compensate farmers and which reflects the level of ambition of the Green Pact for Europe! Thus, the agricultural sector can contribute considerably to the EU recovery plan after the COVID-19 crisis!"