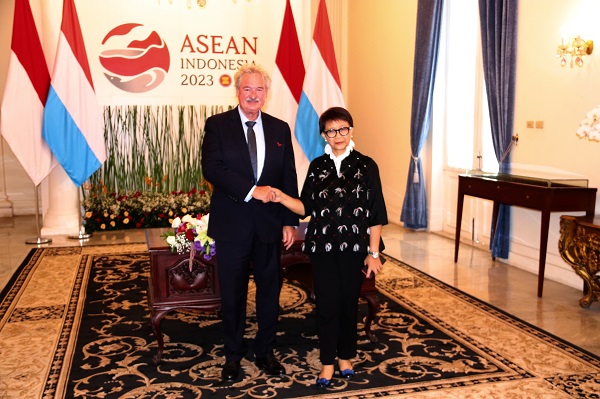 (L-R) Minister Jean Asselborn; Retno Marsudi, Minister of Foreign Affairs of Indonesia; Credit: MAEE
Luxembourg's Minister of Foreign and European Affairs, Jean Asselborn, was on a working visit to the Republic of Indonesia from Wednesday 24 to Friday 26 May 2023.
In Jakarta, the head of Luxembourg's diplomacy was received by Retno Marsudi, Minister of Foreign Affairs, in order to take stock of relations between Luxembourg and Indonesia. The ministers discussed the possibilities of strengthening economic and commercial ties, particularly in the fields of transport, Islamic and green finance, satellite communication, and also in the academic world and health sector. Relations between the European Union and Indonesia were also discussed, in particular the issue of the Comprehensive Economic Partnership Agreement (CEPA) for which Minister Asselborn expressed his full support.
The working meeting was also an opportunity to discuss the latest regional and international developments. In this context, the Ministers had an exchange of views on the latest developments in Myanmar and the South China Sea. Minister Asselborn praised the mediation efforts of Indonesia, which chairs the Association of Southeast Asian Nations (ASEAN) in 2023, to find a peaceful solution to the political and humanitarian crisis in Myanmar.
Russian military aggression in Ukraine was also on the agenda, including the various aspects of the European Union's response to it. Ministers Asselborn and Marsudi agreed on the paramount importance of respecting international law and the United Nations Charter.
As part of his working visit, Minister Asselborn signed a bilateral air services agreement with Budi Karya Sumadi, Indonesian Minister of Transport. The agreement constitutes a legal framework conducive to strengthening connectivity and economic development between Luxembourg and Indonesia. Currently, the Luxembourg cargo airline, Cargolux, flies to Jakarta twice a week.
Minister Asselborn also had the opportunity to meet female leaders, Rubiyanti Kholifah, Andy Yentriyani and Alissa Wahid, active in the field of women's rights and inter-religious dialogue in Indonesia. The speakers shed light on the situation in terms of women's empowerment in Indonesia, while the Minister underlined Luxembourg's commitment, through its feminist foreign policy, in favour of the defence of women's rights and the gender equality.
In addition, the Minister gave a lecture at the Faculty of Law of the University of Indonesia on the role of diplomacy in maintaining international order. Faced with a volatile global context, in particular due to the Russian war in Ukraine, the head of Luxembourg's diplomacy underlined the essential role of international law and multilateral cooperation in preserving peace and security.
The working visit ended with a visit to the Dharmais Cancer Hospital, to illustrate the long-standing partnership of the Luxembourg company B Medical Systems, one of the world leaders in cold chain solutions for vaccines and blood components, with hospitals and educational institutes in Indonesia.