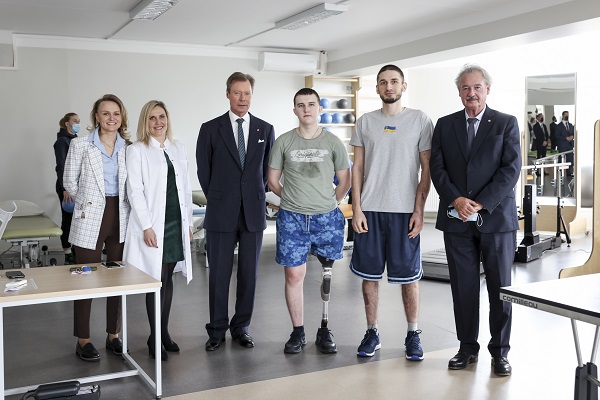 (L-R) Zoja Osipova, occupational therapist; Dr Jūlija Čerešņeva, specialist in physical medicine and rehabilitation; HRH Grand Duke Henri; n.c.; Ivan Lipynskyi, patient; Jean Asselborn, Luxembourg's Foreign Minister; Credit: © Maison du Grand-Duc / Sophie Margue
Alongside the economic programme on Tuesday 14 March 2023, the second day of His Royal Highness the Grand Duke of Luxembourg's state visit to Latvia featured a visit to the National Rehabilitation Centre Vaivari in Jūrmala.
Located about 25 km from Riga in the resort town of Jūrmala, Latvia's largest medical rehabilitation, health and social care, education and scientific research institution offers a wide range of inpatient and outpatient rehabilitation services. The main centre in Jūrmala is complemented by an orthotics and prosthetics centre and a technical aids centre, as well as a smaller outpatient clinic in Riga.
Established in the early 1990s, following Latvia's declaration of independence from the Soviet Union, the state-run institution today counts more than 240 rehabilitation beds and six rehabilitation wards and runs several programmes for patients of all ages. Rehabilitation services address various illnesses and injuries, ranging from post-COVID-19 complications and spinal cord injuries to rare diseases and cancer. As Dr Jūlija Čerešņeva, a specialist in physical medicine and rehabilitation, and Inese Švarca, Head of Medical Department, told members of the Luxembourg press (including Chronicle.lu), the centre hosts about 5,000 inpatients and 14,000 outpatients throughout the year. There are just over 500 people working at the main centre in Jūrmala.
Following Russia's annexation of Crimea in 2014, the National Rehabilitation Centre Vaivari also began cooperating with Ukraine's Ministry of Health and this cooperation has been strengthened since Russia's full-scale invasion of Ukraine last year. Since March 2022, the centre has taken in about 140 Ukrainian soldiers injured in the war; they typically stay for three to four months and, after rehabilitation, return to Ukraine; exceptionally, patients (namely civilians) might stay in Latvia following rehabilitation. Currently, there are about 30 Ukrainian soldiers receiving rehabilitation care at Vaivari.
Speaking to the press, Inese Švarca said that one major challenge was that "all of them [Ukrainian patients] have post-traumatic stress syndrome [PTSD] and some of them have different addictions to all kinds of drugs [...] or to alcohol, so this is also an additional problem we have to deal with." She explained the need to work with psychologists and psychiatrists, sometimes even bringing in military psychologists, since the centre is not specialised in this area; the team hopes to get more external expertise in future.
The Vaivari team helps rehabilitate Ukrainian soldiers following all sorts of injuries and trauma, including amputation, "very complicated fractures", spinal cord or brain injuries and hearing impairment (e.g. after mine explosions). "We face challenges all the time, because none of these patients are easy to care for," Inese Švarca added, becoming emotional. She elaborated that often the patients are suffering from "real polytraumas", i.e. not just one injury or trauma. In terms of the centre's response to the increase in patients since the beginning of Russia's full-scale invasion of Ukraine, she said: "We started to work harder. We have to be very efficient in this turnaround so we don't have free beds for a long time." The institution receives additional special funding from the state to care for Ukrainian patients.
Communication with patients has been straightforward for the most part, she said, confirming that most staff and patients communicate in Russian (for historical reasons, many Latvians can speak Russian), although some younger Ukrainian soldiers were reluctant to do so in the beginning.
The Luxembourg press also had the opportunity to speak with one patient about his road to recovery: 31-year-old Ivan Lipynskyi from the Kyiv area, who coincidently has relatives living in Luxembourg (for several years already), joined the military in March 2022 to defend his country and family from Russian aggression. In summer 2022, he was wounded in the fighting, suffering serious injuries to his left hand and left leg. He subsequently underwent surgery, first in Ukraine (treated by Latvian doctors) and then in Latvia in autumn 2022. He then moved to the National Rehabilitation Centre Vaivari, where he took his "first steps" in January 2023. Ivan will return to Ukraine at the beginning of April 2023, when he will finally be reunited with his family. Owing to the severity of his injuries, he said he was unsure about his future role in the army. Regarding the language issue, he confirmed that he preferred English to Russian and has always spoken Ukrainian at home, but talked with team members at Vaivari in Russian, to facilitate communication, since "these people helped me, to make me feel better."
For their part, Grand Duke Henri and Luxembourg's Minister of Foreign and European Affairs, Jean Asselborn, also had a chance to learn about the institution and to exchange with patients. The Grand Duke later shared his impressions at a press conference: he described the visit as an "impressive" opportunity to witness the "concrete and tangible impact of the war" and praised the "remarkable" work of the Vaivari team. Grand Duke Henri expressed his gratitude to Ukrainian soldiers, saying that they were not only defending Ukraine but also all of Europe and its democratic values.
Speaking more generally about the state visit to Latvia, the Luxembourg head of state praised the good organisation of the trip, emphasising the context of 100 years of bilateral relations and the 30th anniversary of the re-establishment of diplomatic relations between the two countries (celebrated in 2022). He highlighted the importance of exploring further economic cooperation but also reiterated the relevance of the geopolitical context. He noted that in Latvia, which shares a border with Russia, "the war is not far away." He mentioned the many Ukrainian flags and other symbols of solidarity visible all over Riga and recalled that Latvia has taken in more than 40,000 Ukrainian refugees over the past year. During the state visit, Luxembourg's Foreign Minister Jean Asselborn and Economy Minister Franz Fayot had also pointed out on several occasions that the impact of the war was more palpable in Latvia than in Luxembourg or elsewhere in western Europe.
The two-day state visit concluded on Tuesday evening with a dinner reception at the Latvian National Museum of Art hosted by Grand Duke Henri in honour of the Latvian President.