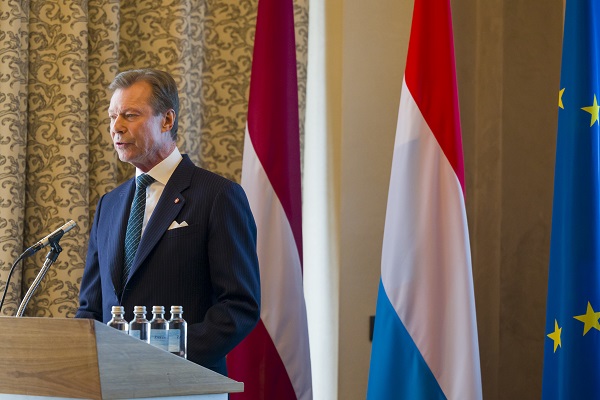 HRH Grand Duke Henri at the Latvia-Luxembourg Business Forum in Grand Hotel Kempinsky Riga; Credit: © SIP / Jean-Christophe Verhaegen
The second day of His Royal Highness the Grand Duke of Luxembourg's first state visit to Latvia continued on Tuesday 14 March 2023 with a primarily economic programme, organised by the Luxembourg Chamber of Commerce in cooperation with Luxembourg's Ministry of the Economy, Luxinnovation and the Latvian Investment and Development Agency (LIAA).
First on the agenda was the Latvia-Luxembourg Business Forum, which kicked off on Tuesday morning in the presence of Grand Duke Henri and Latvian President Egils Levits. The goal of this event was to identify areas for future economic cooperation, particularly in ICT, sustainable economy and the wood sector. In his opening address, Luxembourg's head of state described the forum as a "real milestone" in the development of Luxembourg-Latvian relations. He was confident that by deepening economic cooperation, particularly in the areas of the digital and green transformation and sustainable growth, the two countries would be better equipped to face global challenges such as climate change and geopolitical tensions, by finding innovative solutions together.
Having reiterated Latvia and Luxembourg's support for Ukraine, President Levits, for his part, stressed the importance of being innovative in this uncertain economy and said he felt that existing cooperation between the two countries would serve as a "good foundation" to develop ties further. He recalled that both countries have their own scientific expertise in areas such as ICT and both have significant forest industries. He cited space as another area of potential cooperation.
Luxembourg's Minister of the Economy, Franz Fayot, and Latvia's Minister of Economics, Ilze Indriksone, then delivered their keynote speeches. Minister Fayot acknowledged that there was "room for improvement" regarding trade volume between the two countries (which is significantly lower than that between Luxembourg and the two other Baltic states); he added that there were several reasons why increased cooperation should succeed. He mentioned Luxembourg and Latvia's shared values, their 100 years of bilateral relations and their shared attachment to freedom, self-determination, the rule of law and democracy. He also noted that the two countries have a similar approach to economic development, particularly concerning the will to create a high-added value, digital economy based on highly skilled people. Minister Fayot cited the areas of digitalisation, space and clean tech as some key areas of potential collaboration, as well as forestry and sustainable construction. He later confirmed to members of the Luxembourg press that the Grand Duchy had a direct interest in collaboration in the wood sector (which is particularly strong in Latvia), adding that there was also potential in the area of energy. He concluded that the main aim of Tuesday's forum was to "explore opportunities and build bridges" in the economic field.
For her part, the Latvian Economics Minister described the forum as a "turning point" in the two countries' relations and was confident that it would help further expand their cooperation. She particularly emphasised the importance of knowledge and technology intensive services and products, as well as "more and better investments" which provide the best added value to the economy and to sustainable growth.
Ministers Fayot and Indriksone later had a bilateral meeting, during which they discussed current developments and challenges in European and international economic policy.
Carlo Thelen, Director General of the Luxembourg Chamber of Commerce, then introduced the forum, which featured a seminar on the digital economy and sustainable development, a panel discussion on sustainability in the digital age and a workshop on the wood sector. Various networking opportunities and individual exchanges between Luxembourg and Latvian companies were also on the agenda. In a press briefing in the afternoon, Carlo Thelen noted that representatives of about 20 Luxembourg companies and 50 Latvian companies participated in the forum and initial feedback had been positive, although no concrete agreements had been made at that stage (Mr Thelen noted that such agreements can even take a few years). He explained that Latvia had not been a high priority country for the Luxembourg Chamber of Commerce but the opportunity to develop economic ties arose in the context of the state visit and the forum proved to be an initial success.
Grand Duke Henri and Minister Fayot, accompanied by the Latvian President, later visited the headquarters of Latvian telecommunications company Latvijas Mobilais Telefons (LMT). There they listened to presentations of new technologies, current projects and solutions offered by three Latvian companies active in the field of ICT: LMT (founded in 1992, this was Latvia's first mobile operator), Lightspace Technologies and MikroTik. LMT President Juris Binde confirmed that the company was "very much open for cooperation" with innovators from Luxembourg and around the world. Grand Duke Henri then had the opportunity to test out some of the companies' innovative products, such as an augmented reality headset used in healthcare and defence.