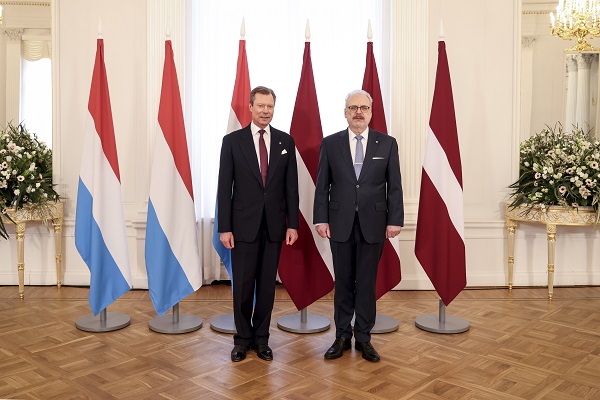 (L-R) HRH Grand Duke Henri of Luxembourg; Egils Levits, President of Latvia; Credit: © Maison du Grand-Duc / Sophie Margue
Monday 13 March 2023 marked the official start of His Royal Highness the Grand Duke of Luxembourg's state visit to Riga, which follows the centenary of bilateral relations and 30th anniversary of the re-establishment of diplomatic relations between Luxembourg and Latvia last year.
After a first afternoon of exploring the Latvian capital at a more leisurely pace (on Sunday), the state visit - the first of any Luxembourg monarch (Grand Duke/Grand Duchess) to Latvia - officially kicked off on Monday with a jam-packed programme. In the morning, Latvian President Egils Levits welcomed Grand Duke Henri during an official ceremony at Riga Castle (the former's official residence). As the two heads of state shared during a press declaration, the issue of Russian aggression against Ukraine was high on the agenda - the relevance of this subject heightened by Riga's geographical proximity to Russia (and Ukraine).
Grand Duke Henri noted just how much Russia's aggression could be felt here, in a city that is just over 200 km away from the Russian border. He denounced the actions of this "aggressor" and the "turmoil" it has caused, and praised Latvia's support for Ukraine - the country has taken in about 45,000 Ukrainian refugees and has provided Ukraine with an "enormous" amount of aid. He recalled that Luxembourg has taken in some 5,000 Ukrainian refugees since the start of the war and expressed his pride at how his country's people "have welcomed people who are suffering", not only Ukrainian refugees but also those coming from all over the world.
Grand Duke Henri also highlighted the "very good" political relations that exist between Luxembourg and Latvia and recalled that he was joined by a sizeable economic delegation (20+ companies) from the Grand Duchy which will participate in an economic forum on Tuesday, with the aim of promoting cooperation in areas such as fintech, among others. He also referred to Latvia's large startup ecosystem and said that he looked forward to new opportunities for economic cooperation between the two countries.
Latvia's President, who previously spent fifteen years working as a judge at the Luxembourg-based European Court of Justice, welcomed the Grand Duke on this historic occasion, describing the state visit as a testament to the two countries' "close, friendly" relations. On the subject of Russia's war against Ukraine, the Latvian head of state highlighted the importance of territorially small countries defending international order. He emphasised that both Luxembourg and Latvia understood the importance of continuing to support Ukraine and showed his appreciation for Luxembourg's cooperation in defence in general, citing the example of the latter's co-funding of the construction of military barracks used by NATO troops in Latvia. He stressed the importance of continued cooperation between the Benelux and Baltic countries, recalling, for example, that last year both sides agreed on the mutual recognition of qualifications. President Levits also highlighted economic cooperation between the two countries, which he believed would be strengthened further through Tuesday's economic forum.
The state visit to Latvia continued with a wreath-laying ceremony in front of the Freedom Monument, which pays tribute to the soldiers who died in combat during the Latvian Independence War (1918-1920), and a visit to the Latvian parliament (Saeima) on Monday afternoon. Later on, Luxembourg's head of state met with Latvian Prime Minister Krišjānis Kariņš at the Palace of Justice, in the presence of Luxembourg's Minister of Foreign and European Affairs, Jean Asselborn, the Minister of the Economy, Franz Fayot, and various Latvian government ministers.
A guided visit of the Museum of the Occupation of Latvia (a private museum established in 1993 and later renovated and reopened in 2022) was also on the agenda. The museum highlights the dark history of the occupation of Latvia and aims to honour the Latvians killed, deported or forced to flee their homeland between 1940 and 1991. This was followed by a visit to the National Library of Latvia, where Grand Duke Henri donated a Luxembourgish book from the National Library of Luxembourg (BnL), Abrégé Historique de la Ville & Forteresse de Luxembourg (a rare 19th century publication about Luxembourg's fortress), to the "People's Bookshelf", which houses more than 7,000 donated books and constitutes a central part of the Latvian building's design. Library director Andris Vilks in turn presented the Grand Duke with a book about Latvian architecture. He also highlighted the existing ties between Latvia and Luxembourg's national libraries.
Members of the press later had the opportunity to speak with Luxembourg Foreign Minister Jean Asselborn about his impressions and exchanges, namely with his Latvian counterpart, Edgars Rinkēvičs, during this state visit. Minister Asselborn briefly presented Latvia's history, particularly mentioning its occupation by foreign powers, namely Nazi Germany and the Soviet Union, in the 20th century - the country only regained its independence from the Soviet Union in 1991 - and how this has had an impact on contemporary Latvian society and the fear Latvian people are currently feeling in relation to Russia's war against Ukraine. Like Grand Duke Henri, Minister Asselborn highlighted Latvian support for Ukraine; he noted that military aid over the past year amounted to 1% of Latvia's GDP (approximately €370 million). He lamented that there had been so far no signs of Russia putting an end to its war of aggression and emphasised that both Luxembourg and Latvia advocated the creation of a special tribunal for Ukraine on the crime of aggression. On another note, Minister Asselborn stressed the need for continued cooperation between the Benelux and Baltic countries, particularly in the areas of education and (renewable) energy.
The first day of this state visit officially concluded with a gala dinner at Riga Castle, hosted by President Levits in honour of Grand Duke Henri.
Tuesday's programme will focus more on potential areas of economic cooperation between Luxembourg and Latvia.