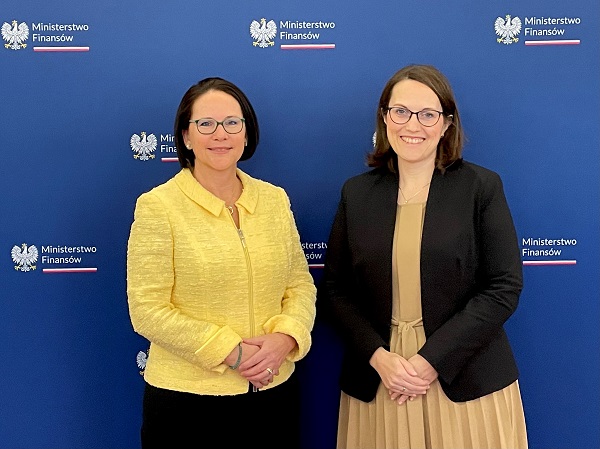 L-R: Yuriko Backes, Luxembourg's Minister of Finance; Magdalena Rzeczkowska, Poland's Minister of Finance; Credit: MFIN
From 26 to 27 January 2023, Luxembourg's Minister of Finance, Yuriko Backes, travelled to Warsaw to meet her Polish counterpart, Magdalena Rzeczkowska.
Minister Backes also took the opportunity to attend the fourth Luxembourg-Poland Business Conference, in the presence of Minister Rzeczkowska and the Vice-President of the European Investment Bank (EIB), Teresa Czerwińska.
During their meeting, the Ministers of Finance of Luxembourg and Poland exchanged views on bilateral cooperation in the financial field and the main issues under discussion at the Ecofin Council, the macroeconomic situation, the war in Ukraine and their respective priorities in the area of sustainable finance. The ministers also agreed to strengthen exchanges in this area.
Minister Backes stated: "In 2016, Poland became the first country in the world to issue a sovereign green bond, which it listed on the Luxembourg Green Exchange. Last year, my counterpart launched the process of establishing a roadmap for sustainable finance in Poland. As a leading financial centre and international platform for sustainable investments, Luxembourg can act as a partner for Poland in its efforts to leverage sustainable finance for the green transition of its economy."
In her speech at the conference "The future of sustainable finance - digital strategy and initiatives in Luxembourg and Poland", which brought together startups, financial sector professionals and representatives from the world of private equity and venture capital, Minister Backes highlighted the role of sustainable finance and digitalisation in developing a low-carbon economy as well as the potential of fintech and venture capital to stimulate innovation in this context.
For Luxembourg's Minister of Finance, "the EU's response to the pandemic has been to prioritise growth-generating investments in the ecological and digital transition. This dual transition will make the European economy not only more resilient, but also more competitive and will strengthen Europe's role as a global leader in the fight against climate change."