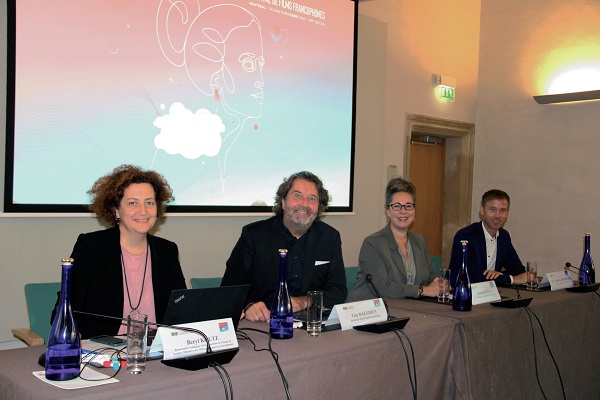 L-R: Beryl Koltz, nation brand image promotion; Guy Daleiden, Film Fund Luxembourg; Valérie Quilez, Kultur | lx; Dr Sebastian Reddeker, Luxembourg for Tourism; Credit: Film Fund Luxembourg
Luxembourg will take pride of place at the 28th edition of the Cinemania Film Festival, which is taking place in Montreal, Canada from 2 to 6 November 2022.
This exceptional tribute to Luxembourg artistic creation will showcase 20 films and three photography exhibitions, as well as public installations, virtual reality (VR) works, performances and events.
For the field of film production, an unprecedented selection of 20 cinematographic works highlighting French-speaking co-productions, some of which were made with Quebec, will be part of the festival's programme. VR works from Luxembourg will also be accessible to the public free of charge at the PHI Centre in Montreal from 2 to 6 November.
Also at the PHI Centre, the Société de Développement des Entreprises Culturelles (SODEC) in Quebec and Film Fund Luxembourg will hold a day of professional meetings with the presentation of case studies, networking opportunities and round tables with partners including the Canada Media Fund (Fonds des médias du Canada), Telefilm Canada, the Bureau du cinéma et de la télévision du Québec ((BCTQ) and the Xn Québec association of producers of digital experiences.
To accompany this exhaustive dive into Luxembourgish creation, the Cinémathèque québécoise will host a conference-debate called "Le Cinéma luxembourgeois – un duel critique" (Luxembourgish cinema - a critical duel), led by two seasoned critics.
Finally, the work of Luxembourg photographer Fabrizio Maltese will be the subject of three photography exhibitions at the PHI Centre, the Cinémathèque québécoise and the Sofitel Montréal Le Carré Doré hotel.
Luxembourg's Prime Minister and Minister for Communications and Media, Xavier Bettel, will take advantage of his trip to Montreal to combine his political talks and his presence at the film festival with a Luxembourg delegation made up of representatives of Film Fund Luxembourg and the film production sector, the Ministry of Foreign and European Affairs, Kultur | lx - Arts Council Luxembourg and Luxembourg for Tourism.
Kultur | lx, in parallel with the Cinemania programme, will invite industry professionals and spectators to discover other aspects of Luxembourg creation from music and performance to dance and writing with an ambitious programme combining events, residencies and meetings throughout November.
"Kultur | lx is delighted with this opportunity to showcase the diversity of Luxembourg creation at major platforms and festivals on the Montreal scene. We hope that this programme will be the start of lasting cooperation with our Quebec partners and will contribute to the international dissemination of artists from Luxembourg", emphasised Valérie Quilez, international coordinator of Kultur | x.
Luxembourg for Tourism will present "destination Luxembourg" to the media and tourism professionals to allow them to discover all that this small country in the heart of Europe has to offer, with a competition to win a one-week stay in Luxembourg.
"Travel and cinema are intimately linked, through the stories, experiences and emotions they convey. Just like the cinema, a trip to Luxembourg will not leave anyone indifferent", explained Dr Sebastian Reddeker, CEO of Luxembourg for Tourism.
In giving Luxembourg pride of place this year, Cinemania will offer an unprecedented immersive outdoor exhibition on the Place des Festivals, in the heart of Montreal's Quartier des Spectacles. Every evening, as soon as night falls, the facades of the Wilder building will light up in the colours of Luxembourg thanks to a unique projection mapping created by the Montreal company Lucion. The architecture will be adorned with a luminous work giving the public an overview of the Luxembourg programme as part of the Cinemania festival. An installation composed of a "LuXembourg" lettering will also occupy part of the pedestrian section of Rue Saint-Catherine, complete with screens offering passers-by an informative and entertaining animation on the assets and specificities of Luxembourg, from its cultural scene to its diversity.
Beryl Koltz, strategic manager of Luxembourg's nation brand image promotion, explained: "This large-scale cross-sectoral promotional action is a pilot project that fully embodies the desire for the international deployment of the brand image promotion brand. Indeed, through coordination work between the various actors and actions of targeted promotion abroad, the initiative aims today, after a first necessary step aimed at raising awareness and uniting its stakeholders in Luxembourg, to make known the values and faces of Luxembourg in the world".
Guy Daleiden, Director of Film Fund Luxembourg, concluded: "The honouring of the Luxembourg audiovisual sector at the Montreal Francophone Film Festival proves once again that the quality of our cinema is appreciated both nationally and beyond our borders in Francophonie and elsewhere. I am delighted with the enthusiasm and the collaborative spirit with which all our partners, institutions and artists have approached this great common adventure".