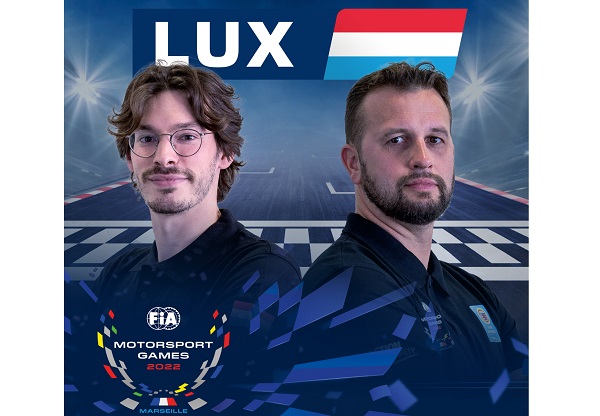 Credit: ACL
The Automobile Club du Luxembourg (ACL) has confirmed that two Luxembourgish drivers will take part in this year's FIA ​​Motorsport Games, which are taking place near Marseille in France from 26 to 30 October 2022.
The FIA ​​Motorsport Games highlight all motorsport disciplines in seventeen competitions ranging from GT racing and karting to rallying and Formula 4. Representatives of more than 60 countries are expected to take part, with Luxembourg being represented in two categories on the site of the Paul Ricard circuit: drifting and esports.
Representing the Grand Duchy on this occasion are Daniel Lahyr in the esports category, who was selected through the ACL Challenge, and renowned drifter Rohan van Riel.
Daniel Lahyr commented: "I have been practising this discipline for two years. Having participated in competitions in Paris and Brussels in the past, I intend to use the experience acquired during the FIA ​​Motorsport Games. Being able to represent your country at an event of such magnitude is the ultimate goal of any SimRacer [simulated racing driver]. I had to familiarise myself with the Assetto Corsa Competizione platform, the feeling is however very precise, errors unforgivable, anything can happen. The objective will be to best represent Luxembourg and ACL Sport, and why not dream of a top 10!".
"We have a solid team, made up of a mechanic and a spotter. The plateau promises to be raised with cars exceeding 1,000 horsepower. Our Falken BMW E63 M6 5.0 V8 Supercharged should be in the middle of the grid. A podium would be a huge success", Rohan van Riel added. "It will also be a first for me on the Paul Ricard track, but I can guarantee you that we will give everything to bring a medal to Luxembourg at this international event".
"We are happy to give Luxembourg drivers the opportunity to be represented at this second edition of the FIA ​​Motorsport Games", concluded ACL Sport sports director, Florian Brouir. "It will be a first for us; Luxembourg was absent during the first edition in 2019. We are going there to learn, to gain experience, but we are not here to play the role of figurative. The objective is to be at the forefront. Daniel Lahyr has an ability to adapt quickly to different platforms. As for Rohan van Riel, he is one of the best drift drivers in Europe. We have great assets to achieve good performances".