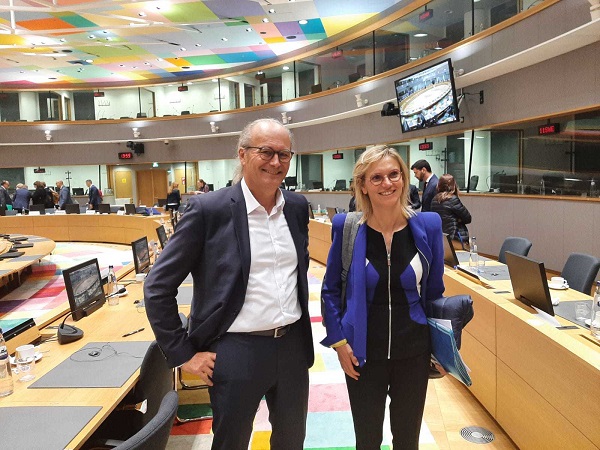 L-R: Claude Turmes, Luxembourg's Minister for Energy; Agnès Pannier-Runacher, France's Minister Delegate for Industry; Credit: MEA
On Friday 30 September 2022, Luxembourg's Minister for Energy, Claude Turmes, participated in the extraordinary meeting of the Council of the European Union (EU) energy ministers.
The ministers reached an agreement on emergency measures to help households and businesses in the EU in the face of soaring energy prices. The proposals presented by the European Commission, aiming to recover part of the superprofits of energy producers to redistribute them to consumers and to impose a reduction in the demand for electricity at peak times, were approved.
Minister Turmes praised the fact that the EU Council of Ministers reached a political agreement: "This agreement introduces emergency measures, which aim in particular to reduce electricity consumption at peak times. I am also particularly pleased with the capping of excessive market revenues for electricity producers who have benefited from abnormally high prices. This is a measure of social justice".
The revenue cap is aimed at producers of electricity from nuclear and renewable energies (wind, solar, hydroelectric) who benefit from exceptional profits by selling it at a price much higher than their production costs. The cap will be set at €180 per megawatt hour (MWh) and the difference between this rate and the wholesale market price must be recovered by the States to be redistributed to households and businesses. For Luxembourg, which is a major electricity importing country, the text provides a legal framework for concluding a bilateral agreement with Germany in order to achieve a fair cross-border distribution of income, in application of the principle of solidarity.
Minister Turmes also called for the establishment of a European platform for joint gas purchases as quickly as possible in a spirit of European solidarity. He recalled: "In the longer term, we must accelerate structural measures that will improve our security of energy supply and bring down prices: the reduction of energy consumption and the rapid deployment of renewable energies".