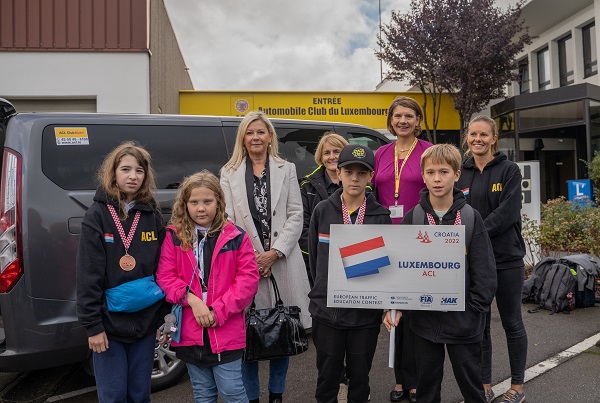 Credit: ACL / FIA
The Automobile Club du Luxembourg (ACL) recently led a selection of four eleven-year-old children from Luxembourg to Croatia for the European Traffic Education Contest (ETEC) of the Fédération Internationale de l'Automobile (FIA).
The ACL and its partner Bicycool had organised cycling agility courses over the summer for children aged ten to twelve who participated in the School Cup (Coupe scolaire), organised by Sécurité Routière Luxembourg Asbl. The goal was to select a team of young cyclists to participate in this year's ETEC in Zadar, Croatia, which took place from 24 to 27 September 2022.
The ACL ultimately selected two girls and two boys to participate in the 35th edition of the ETEC. The objective of this 2022 edition was to relaunch Luxembourg's participation in this European competition and to encourage other players working to improve cycling road education to get involved next year.
"Sécurité Routière organises the School Cup in schools every year. However, we are not destined to participate in competitions", explained Isabelle Medinger, Director of Sécurité Routière Luxembourg Asbl. "We are delighted that the ACL has taken up the torch and that Luxembourg is once again represented at European level after several years of absence".
At the end of the competition, Caroline Fischer, Emma Streveler, Giuliano Fandel and Max Kunen proudly wore the colours of the Grand Duchy during very technical tests.
"They have followed very complicated routes. We really want to congratulate them", said Sophie Montreuil of the ACL who supervised the children during the competition alongside teacher Jana Peters.
After this first positive experience for the children, the ACL intends to continue its commitment to the youngest members of society to make Luxembourg's roads a safer shared space that respects all users. The ACL also plans to participate in the 36th edition of the ETEC next year.