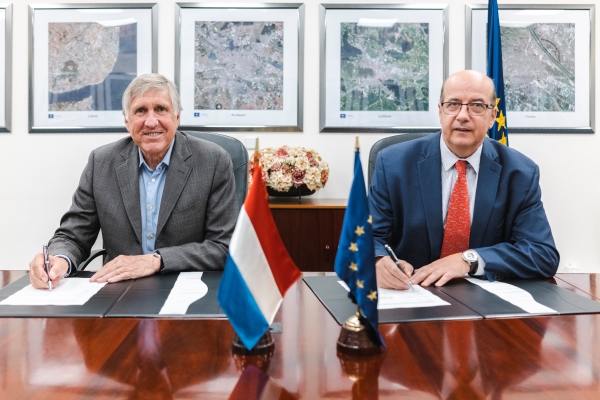 (L-R) François Bausch, Deputy Prime Minister, Minister of Defence; Ambassador Sorin Ducaru, SatCen Director; Credit: SatCen
On Wednesday 31 August 2022, Luxembourg's Deputy Prime Minister and Minister of Defence, François Bausch, visited the European Union Satellite Centre (SatCen) in Torrejon de Ardoz, Spain, in order to take stock of SatCen's achievements, its cooperation with Luxembourg and sign an administrative arrangement to finance a part of SatCen's activities.
This voluntary contribution from Luxembourg's Directorate of Defence to the Centre amounts to €1.5 million and constitutes an earmarked financial support for the purchase of imagery.
During the visit, the SatCen Director, Ambassador Sorin Ducaru, briefed Minister Bausch and the Luxembourg delegation on the mission and activities of the Centre. The SatCen is an operational centre providing security from space, by analysing and exploiting satellite imagery and producing geospatial information services, as well as security in space, by providing alerts e.g. regarding potential collisions in space. The Centre is an essential part of the EU's Common Foreign and Security Policy, especially the Common Security and Defence Policy. As a European Agency, under the political supervision of the Political and Security Committee, the Centre actively supports EU decision-making and actions by providing relevant analysis products resulting from the exploitation of earth observation systems and collateral data. To carry out its mission, the Centre acquires space imagery from the public or private sectors and transforms it into actionable information services. SatCen currently comprises some 160 highly qualified staff and its budget amounts to about €30 million per year. About half of the amount is financed by EU Member States contributions and another half originates from cooperation projects with the EU Commission (e.g. Copernicus, Frontex, Horizon Europe).
In 2022, the activities of the Centre largely intensified due to a high demand of their products and services by its core users. This significant increase had important consequences on the operational activity of the Centre and its budgetary planning. Indeed, in order to keep up its activities and to purchase imagery at the same pace as during the first half year of 2022, additional funds are needed. Luxembourg's Directorate of Defence volunteered to contribute €1.5 million in order to help SatCen meet the increased demand of their products and services.
Concluding his visit and the signature ceremony, Minister Bausch noted: "The EU Satellite Centre provides essential services to European defence and security, which I had the opportunity to witness first hand today. The tracking of last year's floods, of the impact of this summer's heat wave, of the forest fires but foremost the monitoring of military activity or irregular migration all attest to the importance of quality satellite imagery. Luxembourg's voluntary contribution of €1.5 million testifies to our conviction that SatCen provides indispensable services, beyond just the military sector. In 2023, Luxembourg will launch its own earth observation satellite, LUXEOSys, whose images will be provided to SatCen free of charge. Last but not least, I would like to congratulate the SatCen for its 30th anniversary and for all its accomplishments over these years. Luxembourg stays committed to continue its support in the years to come".
On behalf of SatCen, Ambassador Sorin Ducaru, the Director of the Agency, added: "The highly professional and dedicated SatCen team is proud to grow high value geospatial analysis, empowered by latest satellite and data management technologies to the benefit of the EU, its Member States and its citizens. We are grateful for the excellent cooperation with and the valuable support from Luxembourg in delivering on our mission in an increasingly complex security environment".