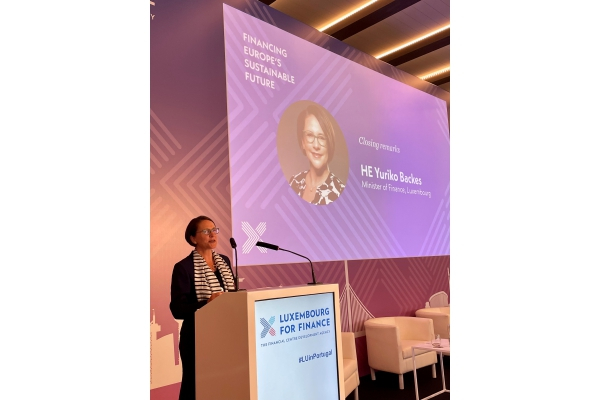 Yuriko Backes, Minister of Finance; Credit: MIFI
From Wednesday 11 to Thursday 12 May 2022, Luxembourg's Minister of Finance, Yuriko Backes, accompanied Their Royal Highnesses the Grand Duke and Grand Duchess on a state visit to Portugal.
On the sidelines of the State visit, Minister Backes had a meeting with her Portuguese counterpart, the Minister of Finance, Fernando Medina, and took part in a seminar bringing together the Luxembourg and Portuguese financial sectors, organised by Luxembourg for Finance (LFF). Finally, as President of the Luxembourg House of Financial Technologies (LHoFT), Minister Backes, went to the Fintech House in Lisbon to participate in the signing of a partnership between the LHoFT and Portugal Fintech.
During their meeting, ministers Backes and Medina took stock of the macroeconomic situation in Europe, strongly impacted by the war in Ukraine and a spectacular rise in inflation. Minister Backes stressed the need for concerted action by European Union (EU) Member States and close coordination of budgetary policies to deal with this new crisis which is hitting Europe hard. Welcoming the excellent relations between Portugal and Luxembourg, the two ministers also agreed to deepen exchanges on sustainable investment policy.
In her speech at the Portugal-Luxembourg Economic Forum in the presence of the Grand Ducal couple and the President of the Portuguese Republic, Minister Backes while recalling the exemplary recovery of the Portuguese economy after the 2008 financial crisis, underlined the resilience of the EU, said: "More than ever, the world needs a strong and united European Union".
Minister Backes also spoke professionals from the Portuguese and Luxembourg financial sector at the seminar entitled "Financing a sustainable future for Europe", organised by the LFF. Emphasising the important role of financial centres within the single market, Minister Backes recalled: "the fight against climate change and energy security go hand in hand. The financial sector is the key to mobilising trillions in investment and will help the European Union meet its commitments to future generations".
The state visit was also an opportunity to strengthen ties between Portugal and Luxembourg in the area of ​​fintech. Thus, Minister Backes went to Fintech House, a Fintech incubator in the heart of Lisbon, to meet Portuguese innovators and start-ups. On this occasion, the LHoFT and Portugal Fintech signed a partnership agreement to support Fintech companies wishing to access the respective markets and to strengthen collaboration on key themes such as payments, AI or blockchain technologies. The agreement also provides for the two "hubs" to cooperate in the field of so-called "green" Fintech.
Minister Backes said: "I welcome this partnership between the LHoFT and Portugal Fintech. As an international financial center and platform for sustainable investments, Luxembourg is very complementary to Portugal. Moreover, financial technologies based on artificial intelligence, big data or distributed ledger technology will play an increasingly important role in our efforts for green and sustainable finance".