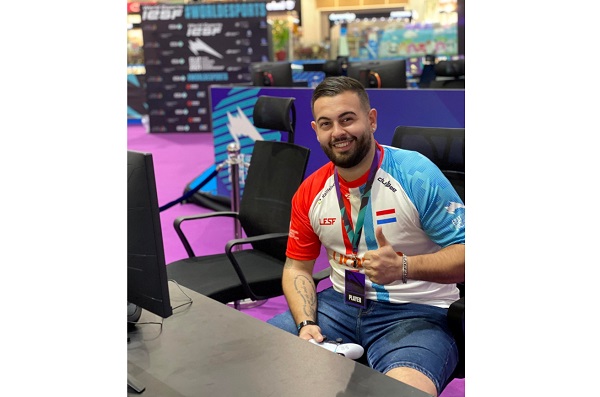 Daniel "Diffside45" Araujo; Credit: LESF
The Luxembourg Esports Federation (LESF) has announced that one of its athletes, Daniel "Diffside45" Araujo, finished in 5th place in this year's International Esports Federation (IESF) World Championship Finals, which took place last week in Eilat, Israel.
Daniel was the first ever Luxembourg participant to qualify for the IESF World Championship Finals. From 16 to 18 November 2021, he competed against the 23 remaining opponents for the title of the 2021 IESF eFootball World Champion.
After an impressive performance during the group stage on the first two days, where he managed to win all his encounters (5-0), Daniel faced Georgian athlete and later world champion Rati Nanava in the quarter finals. The first match of the best-of-five ended in defeat for the Luxembourg athlete. Daniel, who had never played on-stage before, had to win at least three matches in order to stay in the competition, but his opponent proved to be too strong and won the best-of-five.
Nevertheless, the Luxembourg athlete finished the tournament in 5th place.
The competition brought together athletes from various professional teams, such as José Carlos Sánchez Guillén, eFootballer of FC Bayern Munich, who finished in 3rd place.
Top 5 of the IESF eFootball World Championships:
1. Rati Nanava, Georgia
2. Celic Hernández, Mexico
3. Jose Carlos Sánchez Guillén
4. Raffaele Pagliuca, Italy
5. Daniel Araujo, Luxembourg
In the coming year, the LESF will host qualifiers for the various game titles to find the Luxembourg representatives for the 2022 IESF World Championships in Bali, Indonesia.
The LESF is an internationally recognised non-profit association founded in June 2020 with the aim of promoting esports as well as federating esports stakeholders and representing their collective interests in the Grand Duchy.