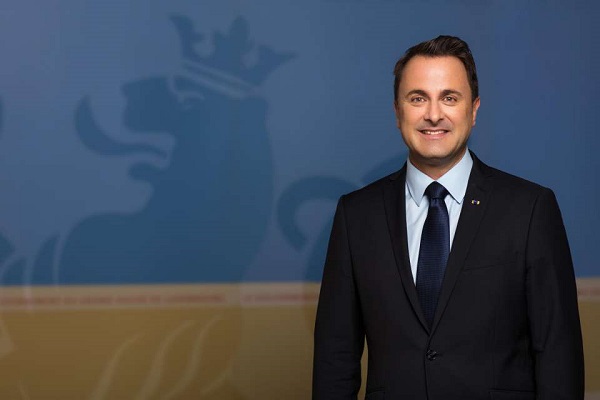 Luxembourg's Prime Minister Xavier Bettel; Credit: SIP / Yves Kortum
On Wednesday 7 October 2020, Luxembourg's Prime Minister Xavier Bettel participated in the Benelux Summit via video conference.
Luxembourg's Prime Minister discussed with Marc Rutte, Prime Minister of the Netherlands which is currently assuming the rotating Presidency of the Benelux Union, and Alexander De Croo, Belgium's Prime Minister, the latest developments concerning current issues and more particularly themes that will be discussed at the European Council in October: the EU climate objectives for 2030, the dialogue on the rule of law and the latest developments concerning Brexit.
During this exchange, Prime Minister Xavier Bettel presented his visions for the Benelux Union for the years to come: "As a Benelux country, we must build on what has been achieved so far and continue to deepen our cooperation through new avenues and priorities. Concrete and tangible projects that have a direct impact on the lives of our citizens and businesses in the fields of energy transition and the fight against climate change, the strengthening of our internal market and digitalisation must be priorities for the Benelux Union. Likewise, we must maintain our pioneering role in the EU and improve the efficiency of cross-border cooperation between our three countries".
The Prime Ministers also adopted the declaration of the Benelux Summit, which reiterates that, for more than 75 years already, the cornerstones of the close cooperation between the Benelux countries have been security, prosperity and freedom.
Regarding the COVID-19 pandemic, the Benelux Prime Ministers declared the following: "We, Prime Ministers of Belgium, Luxembourg and the Netherlands, are firmly convinced that a united European Union is essential to find answers to our common challenges. In light of the COVID-19 crisis, our goal is to overcome this crisis together, achieve a sustainable recovery for our economy, our society and our citizens and come out of the crisis stronger than before".
Subsequently, the Prime Ministers exchanged with the Members of the Benelux College of Secretaries General, which constitutes the administrative centre of the Benelux Union, on the Benelux Work Plan 2021-2014 and the priorities for the coming years. They also discussed the issue of borders during the coronavirus crisis and how to ensure the free movement of people while taking public health into consideration.