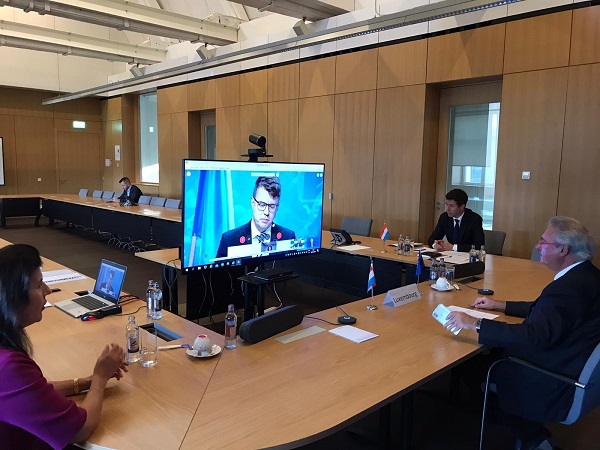 Minister Jean Asselborn participating in the UN Secrity Council meeting; Credit: MAEE
With Estonia assuming the Presidency of the United Nations Security Council for the month of May, its Minister of Foreign Affairs, Urmas Reinsalu, convened an informal meeting by videoconference on the 75th anniversary of the end of the Second World War and invited, amongst others, Luxembourg's Minister of Foreign and European Affairs, Jean Asselborn, to participate.
This meeting aimed to highlight both the lessons that can be learned in terms of the prevention of atrocities, 75 years after the end of the Second World War on European soil, and the responsibility of the Security Council for the maintenance of international peace and security.
In his speech, Minister Asselborn recalled the beginnings of the United Nations and the genesis of the post-war world order. "In San Francisco, our Charter was signed and has been the cornerstone of a rules-based international order for decades to come. Let me add that the end of the war also paved the way for this particular peace project which is the European Union," said Minister Asselborn.
The head of Luxembourg's diplomacy stressed the importance of commemorating this 75th anniversary, while warning against using history for geopolitical purposes.
Jean Asselborn took the opportunity to underline the important role played by the United Nations: "despite all its shortcomings, despite all its setbacks, our organization, the United Nations, has kept its promises. Let's not forget this at a time when multilateralism is under siege."
In conclusion, Minister Asselborn expressed his hope that "the Security Council will respond to the Secretary-General's call for a global ceasefire in this dramatic period of the COVID-19 pandemic."