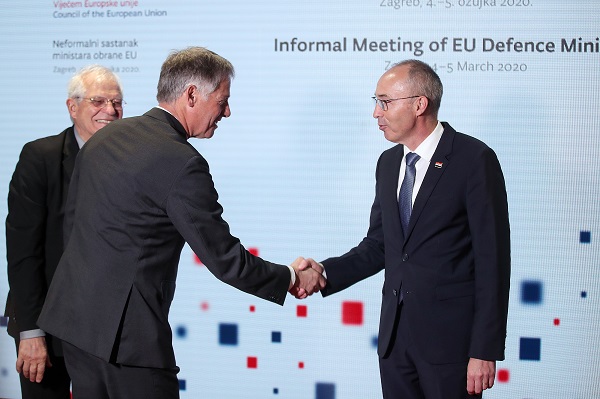 L-R: Josep Borell, EU High Representative for Foreign Affairs and Security Policy; Henri Kox, Luxembourg's Minister Delegate of Defence; Damir Krstičević, Croatian Deputy Prime Minister, Minister of Defence; Credit: Goran Stanzl / PIXSELL / EU2020HR
Luxembourg's Minister Delegate of Defence, Henri Kox, participated in the informal meeting of European Union (EU) Defence Ministers in Zagreb, Croatia, from 4-5 March 2020.
At the informal dinner on Wednesday, which focused on the operational commitments of the EU, Henri Kox stressed the importance of the EU in helping to stabilise the Sahel, given the continued deterioration of the security and human situation. He stated: "We must do more, differently and above all better".
The European Union Training Mission (EUTM) in Mali, which Luxembourg plans to support further with the deployment of military trainers, aims in particular to train and strengthen the capacities of the Malian armed forces to combat the terrorist threat more effectively and efficiently in this Sahelian country. Indeed, Mali is also one of the partners of the Luxembourg Development Cooperation.
Minister Delegate Kox insisted that local ownership and the needs of the different communities concerned should be taken into account more systematically. He maintained that closer coordination between the international actors present in the Sahel would also increase the impact of joint efforts on the ground.
In this context, Henri Kox also proposed to take greater account of the degradation of natural resources and the harmful effects of climate change as destabilising factors and multipliers of risks and conflicts. He also thanked NATO for the cooperation and proposed to include climate change as an additional area of ​​cooperation between the EU and NATO.
On Thursday, during the exchange on EU defence priorities, Luxembourg's Minister Delegate of Defence shared the analyses of the EU High Representative for Foreign Affairs and Security Policy, Josep Borrell, including notably better operationalisation of common defense priorities and the development of the capabilities and partnerships necessary to achieve this.
Like most of his colleagues, Minister Delegate Kox also regretted that the military mobility initiative risks not being provided with sufficient financial resources under the next EU multiannual financial framework (MFF).