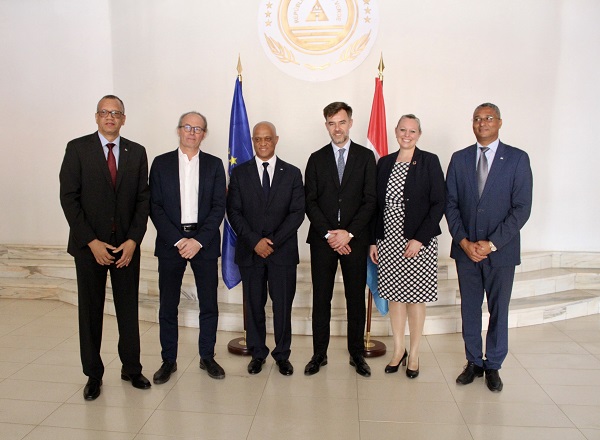 Credit: MAEE
From 15 to 18 February 2020, Luxembourg's Minister for Development Cooperation and Humanitarian Affairs, Franz Fayot, undertook a joint working visit with Environment Minister Carole Dieschbourg and Energy Minister Claude Turmes to Cape Verde; this marked Minister Fayots first such visit to a partner country of the Luxembourg Cooperation.
The main purpose of the visit was a joint meeting with Cape Verdean ministers, including Luis Filipe Tavares, Minister of Foreign Affairs and Communities, Gilberto Silva, Minister of Agriculture and Environment, and Alexandre Monteiro, Minister of Industry, Trade and Energy, in order to refine the new "country approach", an innovative model within development cooperation partnerships. The Cape Verdean partners also presented their energy transition policies and particularly a plan to make the island of Brava self-sufficient in energy.
As a long-standing and trusted partner of the Luxembourg Cooperation, Cape Verde was chosen to launch the pilot project of the country approach, which aims to diversify development interventions, taking into account in particular the fight against climate change. This concept aims to ensure better coherence of Luxembourg public policies and enhanced synergy between development cooperation actions and other policy areas in order to improve the overall impact of Luxembourgish investment in its partner countries. Thus, the ongoing identification of the next multiannual partnership programme (2021-2025) between Luxembourg and Cape Verde will combine for the first time actions in development cooperation, climate and energy, which will be as much financed by the Development Cooperation Fund as by the Climate and Energy Fund.
During their visit, the Luxembourg ministers were also received by Cape Verde's President Jorge Carlos Fonseca and Prime Minister, Ulisses Correia e Silva. Following a meeting with the President of the National Assembly of Cape Verde, Jorge Santos, he and Franz Fayot jointly launched the installation of solar panels at the National Assembly, a project funded by the Luxembourg Cooperation.
The ministers also visited Luxembourg Cooperation projects in the field of renewable energies, such as the Centre for Renewable Energy and Industrial Maintenance (CERMI), one of the first projects abroad to have received funding from the Climate and Energy Fund in 2013.