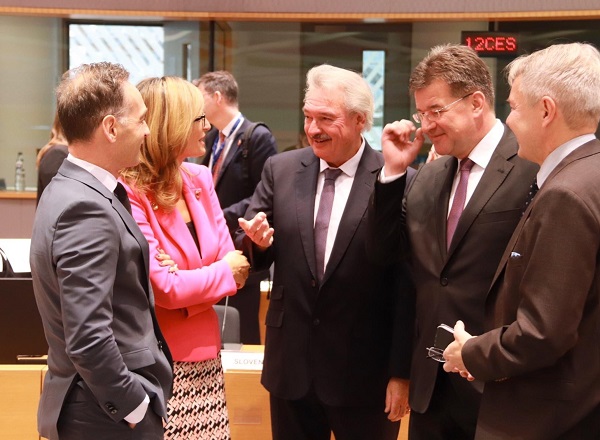 Foreign Ministers of Germany, Bulgaria, Luxembourg, Slovakia and Finland; Credit: MAEE
Luxembourg's Minister of Foreign and European Affairs of Luxembourg, Jean Asselborn, participated in the Foreign Affairs Council of the European Union in Brussels on Monday.
The Council began with a discussion of current affairs, which allowed the ministers to review the most pressing issues on the international agenda, most notably the situation in Venezuela following the International Solidarity Conference on the Venezuelan refugee and migrant crisis, held in Brussels on 28 and 29 October 2019, as well as recent developments in Bolivia, Iraq, Lebanon, Libya and the Sahel.
The ministers also discussed relations with Turkey, particularly following the Turkish military intervention in northeastern Syria. Speaking to the press before the meeting, Minister Asselborn regretted that "what a NATO country has done in Syria does not correspond to the values ​​that should prevail in NATO today as a political alliance". At the same time, he stressed that the Atlantic Alliance is an essential military alliance for European security.
In his speech to the Council, Jean Asselborn launched an appeal to the EU unit for the meeting of the international coalition against Daesh that will take place on 14 November 2019 in Washington. The meeting will look at defending European interests, given the presence in Iraq and Syria of many foreign terrorist fighters affiliated with Daesh.
Ministers then turned to recent developments in Afghanistan, as well as regional security in the Gulf. Regarding Iran, the head of Luxembourg's diplomacy highlighted "the importance of finding, together with Iran, a solution to the current stalemate". According to Minister Asselborn, it is now important to wait for the next report of the International Atomic Energy Agency (IAEA), which will assess to what extent the Iranian authorities continue to respect the terms of the nuclear agreement concluded in Vienna in July 2015.
The working lunch that followed was an opportunity for EU foreign ministers to take stock of the situation in Sudan, in the presence of Sudan's Prime Minister Abdallah Hamdok. Ministers encouraged the Sudanese transitional authorities to continue their efforts to establish democratic and civilian governance and establish a lasting peace throughout the country, including in Darfur.