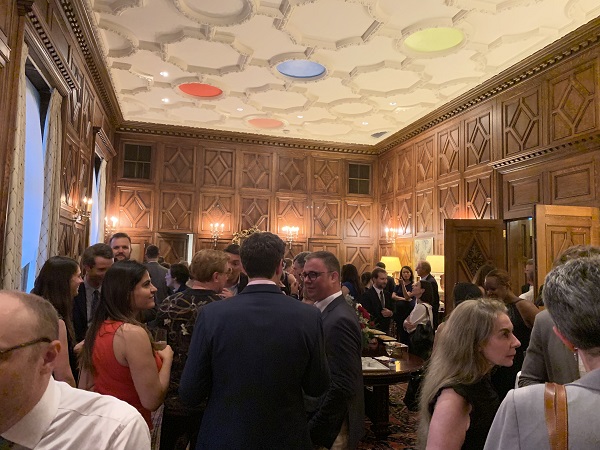 Credit: C. Naseer Ahmad
On Tuesday 18 June 2019, Her Excellency Sylvie Lucas, Ambassador of the Grand Duchy of Luxembourg in Washington DC (USA), hosted a National Day celebration at the Luxembourg Embassy in Washington.
A large gathering of diplomats from countries around the world joined in this special event, as well as representatives of the US State Department, a retired US Ambassador to Luxembourg and other governmental agencies. Keeping with past traditions, the guests also included individuals with family connections with Luxembourg.
HE Ambassador Lucas extended the warmth that has become so familiar to the friends of Luxembourg in Washington. In her remarks, she mentioned the historic ties (over 115 years) between the US and Luxembourg. In particular, Ambassador Lucas highlighted the 75th anniversary of the D-Day landing and paid tribute to the late Grand Duke Jean who participated in the effort to liberate Europe from Nazi tyranny - he had landed near Bayeux, Normandy, on 11 June 1944, five days after D-day. The Ambassador similarly noted the upcoming 70th anniversary of the formation of NATO and invited guests to visit Luxembourg, before paying tribute to the late General Patton, who is buried in Luxembourg along with his fellow soldiers.
In her remarks, Ambassador Lucas also shared the news of her imminent departure after having served in the US as Luxembourg's top diplomat for eleven years, first in New York and most recently in Washington. She informed the guests about her new role in the Ministry of Foreign Affairs.
Ambassador Lucas then invited the guest to sing the Luxembourg, EU and US national anthems, with the embassy providing printed copies with an English translation of "Ons Heemecht". The handout also provided information related to the Luxembourg national anthem.
Departing guests were treated to Luxembourg cookies as the celebrations came to an end.