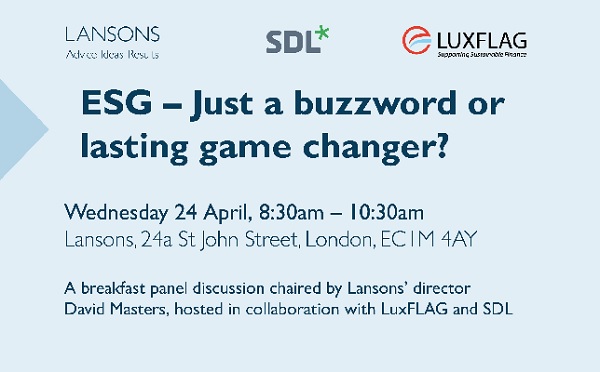 The Luxembourg Finance Labelling Agency (LuxFLAG) is holding its first ESG (Environmental, Social, Governance) breakfast meeting in London on Wednesday 24 April 2019 at Lansons (24A St John St, Barbican, London), from 08:30 - 10:30.
The event, organised in collaboration with Lansons and SDL, will discuss the current state of the industry. ESG is currently making waves as a hot topic in the investment space. But is it just a buzzword or a lasting game changer for the investment industry? The breakfast panel discussion, chaired by Lansons' director David Masters, will try to answer this question and discuss other pressing topics in sustainable finance.
Other questions to be addressed include: Can the investor expectations be met and in what time frame? How will it be a game changer for traditional asset management? Will regulatory intervention change the conversation for the better? vIs it all ultimately playing into the hands of the early disruptors?
Those interested in attending the event, should email: communications@luxflag.org