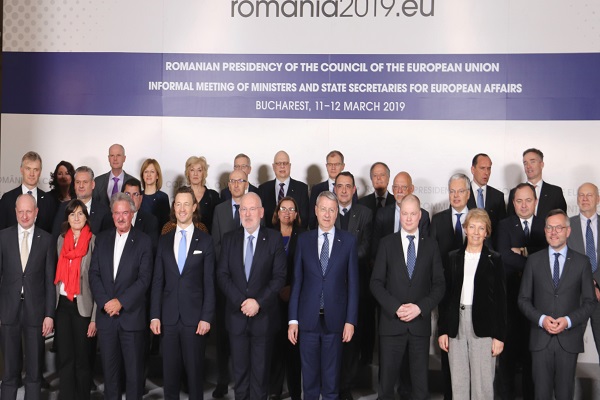 Informal meeting of European Affairs Ministers in Bucharest; Credit: MAEE
Luxembourg Minister of Foreign and European Affairs Jean Asselborn discussed the EU enlargement process during the traditional informal meeting of European Affairs Ministers held on 11 and 12 March 2019 in Bucharest, Romania.
On Monday evening, Minister Asselborn participated in an informal working dinner with EU candidate countries Albania, North Macedonia, Montenegro, Serbia and Turkey. During the dinner, the ministers also had an exchange on the enlargement process and the next steps.
On Tuesday morning, ministers took stock of the EU's multiannual financial framework. The aim of the discussions was to contribute to the progress of the negotiations, in line with the conclusions of the December 2018 European Council. In his speech, Minister Asselborn recalled that "it is important to respect a precise timetable of the negotiations", adding that "the Union must first identify its main fields of action and then give itself the necessary financial means to implement them".
Speaking in favour of a modernisation of the EU budget, Minister Asselborn then pointed out that "our spending priorities must reflect our political ambitions". In particular, Luxembourg's head of diplomacy stressed that the new multiannual financial framework should be the financial counterpart of the next strategic agenda, which should enable the EU to implement the measures identified in the Bratislava and Rome declarations.
The second working session of the day focused on the next strategic programme of the European Union for the period 2019-2024. The Luxembourg government has expressed its conviction that the next strategic programme should provide an opportunity to focus on the need to create a fully integrated single market, including in the digital economy. In addition, the government believes that the new strategic programme should focus on strengthening the social dimension of the market.