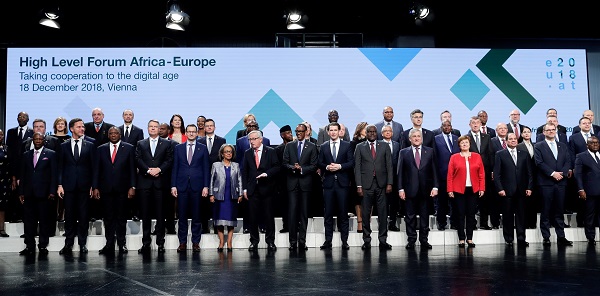 Paulette Lenert at Euro-African Forum; Credit: BKA/Andy Wenzel
On Monday 17 and Tuesday 19 December 2018, Luxembourg's Minister of Cooperation and Humanitarian Action, Paulette Lenert, was in Vienna to participate in the Europe-Africa High Level Forum, co-organised by the Austrian Presidency of the Council of the EU and the Rwandan presidency of the African Union.
In the presence of Paul Kagame and Jean-Claude Juncker, the high-level forum in Vienna brought together 20 European and African heads of state and government, as well as some 800 representatives of private companies with the aim of promoting the innovation and digital solutions as engines for the development of both continents. Particular attention has been paid to the still largely unexploited opportunities offered by digital innovation to deepen the partnership between Africa and Europe in the areas of trade and technology exchange.
The high-level forum was an opportunity for Minister Lenert to meet many partners of Luxembourg Cooperation, including the President of the EIB, the President of the International Fund for Agricultural Development (IFAD), the CEO of the World Bank, Niger's minister in charge of digital technology, Cape Verde's secretary of state for vocational training and the vice-president in charge of the private sector, infrastructure and industrialisation of the African Development Bank.
As part of her discussions, Minister Lenert stressed the importance of mobilising innovative financing mechanisms for Africa's development and highlighted Luxembourg's expertise in this area.