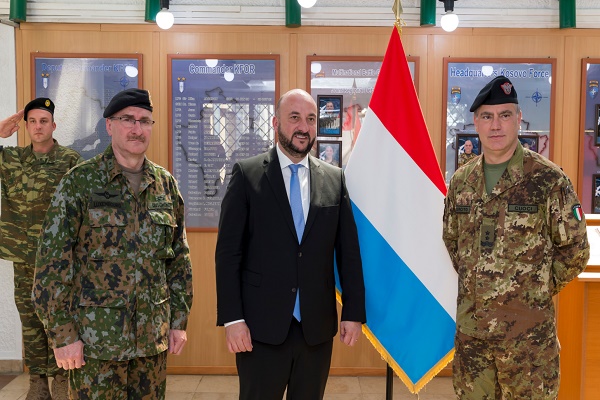 L-R: General Alain Duschène, Chief of Staff of the Luxembourg Army; Etienne Schneider, Deputy Prime Minister, Minister of Defence; Major General Salvatore Cuoci, Commander of KFOR; Credit: © SIP / Jean-Christophe Verhaegen, all rights reserved
Today marked the visit of Luxembourg Deputy Prime Minister Étienne Schneider to the Kosovo Force (KFOR) medical centre in Kosovo.
On 2 May 2018, the Deputy Prime Minister and Minister of Defence, Étienne Schneider, accompanied by the Chief of Staff of the Luxembourg Army, General Alain Duschène, as well as members of the commission of the public force and the Committee of Foreign and European Affairs, Defence, Cooperation and Immigration, visited the new Role 2 KFOR Medical Centre, co-funded by Luxembourg.
After a meeting between Étienne Schneider and KFOR Commander Major-General Salvatore Cuoci, the delegation proceeded to a wreath laying ceremony in front of the memorial commemorating KFOR soldiers who died in service.
The delegation then visited the Role 2 (NATO terminology / classification) medical centre, a hospital facility that opened in January 2018 in KFOR's Film City Camp in Pristina. The centre offers medical support tailored to the requirements of KFOR field missions.
Luxembourg contributes substantially to the funding of the military hospital for the KFOR mission for 3 years. In concrete terms, Luxembourg has pledged to finance the medical structure between 2018 and 2020 for €4 million a year. Following the redeployment of part of KFOR's medical support towards the end of 2017, a commercial solution was chosen to replace this critical capacity as soon as possible. Luxembourg finances this capability together with the nations, deploying troops as part of KFOR, and in collaboration with the NSPA (NATO Agency for Support and Acquisition) while ensuring support for many costs.
For the sake of context, it should be noted that following the decision of the government to redeploy the Luxembourg contingents, the participation of the Luxembourg army in the KFOR mission ended in October 2017. A total of 52 Luxembourg contingents were deployed in Kosovo from April 2000 until October 2017.