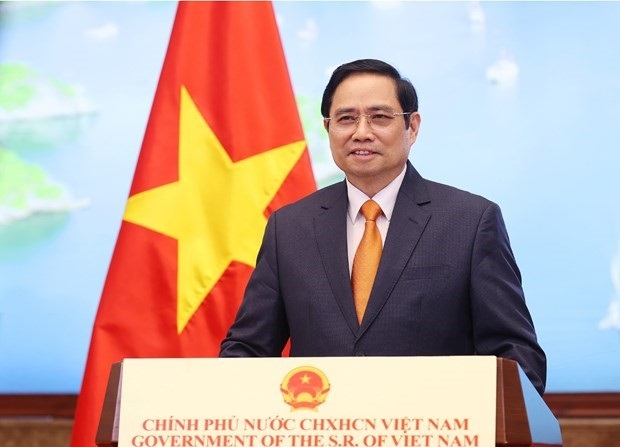 Vietnam's Prime Minister Pham Minh Chinh;
SPONSORED CONTENT
Nearly 50 years since the establishment of diplomatic relations (1973 - 2023), Luxembourg has always accompanied and supported Vietnam's process of construction, development and international integration. Currently, a dynamic and open Vietnam full of potential is ready to welcome Luxembourg as an equal cooperation partner, for the benefit of the two peoples and for the common benefit of the international community.
From a development cooperation partner…
Vietnam and Luxembourg established diplomatic relations on 15 November 1973. During the first difficult years after reunification, especially after Vietnam carried out the "Doi Moi" economic reforms, Luxembourg was one of the pioneering Western countries in supporting integration efforts and the development of Vietnam. This support is multifaceted, first of all in terms of development cooperation. Through three Indicative Cooperation Programmes (ICP) spanning from 2002 to 2015, Luxembourg has provided Vietnam with programmes and projects using official development assistance (ODA) grants worth nearly €130 million, focusing on a number of areas that Vietnam is in need of for the process of socio-economic construction and development, especially the implementation of the Millennium Development Goals (MDGs).
In 2017, the Cooperation Framework Agreement between the Government of Vietnam and the Government of the Grand Duchy of Luxembourg was signed. As the person to sign this agreement on behalf of the Government of Luxembourg, Minister for Development Cooperation and Humanitarian Affairs Romain Schneider expressed his belief that the relationship between Vietnam and Luxembourg will go beyond the relationship model between an aid party and an aid recipient, establishing a bilateral partnership in the spirit of mutual exchange and mutual benefit, expanding cooperation to more diverse fields.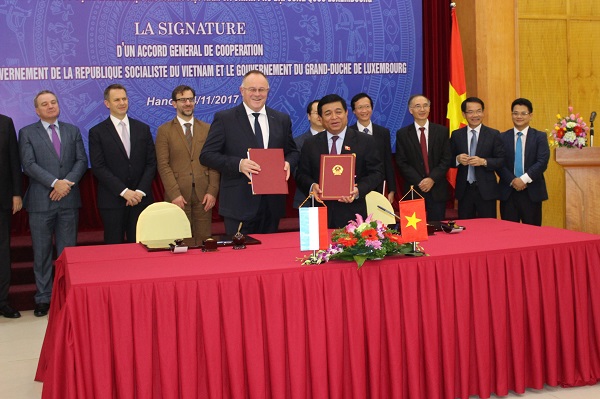 Photo: Signing ceremony of the Framework Agreement on bilateral cooperation in 2017
In recent years, along with Vietnam's efforts to play a more active role in international and regional issues, Vietnam has also received Luxembourg's sharing and support at many multilateral forums, including supporting Vietnam to become a non-permanent member of the UN Security Council. Luxembourg's continued support for Vietnam to become a member of the Human Rights Council for the term 2023 - 2025 shows that Luxembourg expects Vietnam's role and contributions in promoting human rights in the region and in the world.
… to an equal and potential cooperation partner
Luxembourg has the right to be proud of its support and contribution to the development of Vietnam; because of this support, along with the cooperation of the international community, Vietnam has grown strongly, becoming a low-middle-income country since 2008 and is aiming to become a high-middle-income country by 2030. Vietnam is one of the early achievers of five out of eight millennium goals and has been proactively develop a National Action Plan to implement the 2030 Agenda with the 17 Sustainable Development Goals (SDG).
In 2022, despite numerous difficulties both in the domestic and international environment, with the flexible and effective management of the Government of Vietnam, the macro-economy is basically stable, inflation is under control, and inflation is increasing. Economic growth recovered positively and major balances of the economy were ensured. GDP growth in the first nine months of 2022 reached 8.83%; it is estimated at nearly 8% for the whole year, a high level, while most economies in the region are facing difficulties.
In 2022, despite numerous difficulties both domestically and internationally, with the flexible and effective management of the Government of Vietnam, the macro-economy is basically stable, inflation is under control, economic growth recovered positively, major balances of the economy were ensured.
The EVFTA Agreement, which took effect in August 2020, has contributed to promoting bilateral trade. As of August 2022, bilateral trade turnover reached €120 million, of which Luxembourg's exports to Vietnam reached €40 million, an increase of nearly 11%. Recently, Luxembourg was the 12th country in Europe to ratify the EVIPA agreement. Investors believe that when it comes into effect, EVIPA will supplement the EVFTA, contributing to facilitating trade and investment between Vietnam and Luxembourg as well as with other EU countries. Up to now, Luxembourg has 57 projects with an investment capital of about $2.59 billion, ranking 5th among EU countries investing in Vietnam.
Currently, Vietnam has a great need for finance for development. According to the report of the Global Infrastructure Hub (GIH), in the period of 2021-2030, Vietnam needs about $25-30 billion per year for infrastructure. The State budget can only cover $15-$18 billion (60%), the rest is in dire need of other capital sources.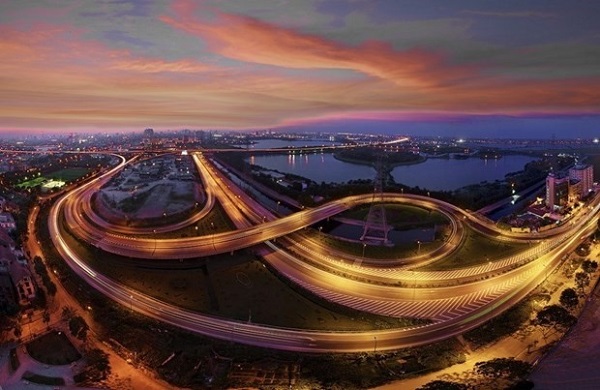 Photo: An intersection in the south of Hanoi (VNA)
According to the above report, Vietnam also needs capital for socio-economic activities associated with climate change response (6.8% of GDP/year to 2040). Indeed, Vietnam has made many strong commitments on environmental protection at COP26, such as: bringing net emissions to "zero" by 2050; not building new coal power from 2030 and gradually phasing out coal power from 2040; a 30% reduction in methane emissions by 2030 compared to 2020 levels…
Vietnam's commitments are in line with the development policy and strengths of Luxembourg, a global financial centre and the headquarters of the world's leading development financial investment funds. Luxembourg can cooperate with Vietnam in sustainable development projects in areas such as innovation, high technology, smart infrastructure, start-ups, education and training, healthcare, and tourism. Vietnam also has reference to the experience of Luxembourg's green bond model for research and application in Vietnam, as Foreign Minister Jean Asselborn suggested during his last visit to Vietnam.
From 9-10 December 2022, Vietnamese Prime Minister Pham Minh Chinh will pay an official visit to Luxembourg. A meaningful visit on the occasion of the celebration of the 50th anniversary of bilateral relations, with many meaningful activities, will certainly be a new milestone and a driving force to promote Vietnam-Luxembourg relations to a new level.