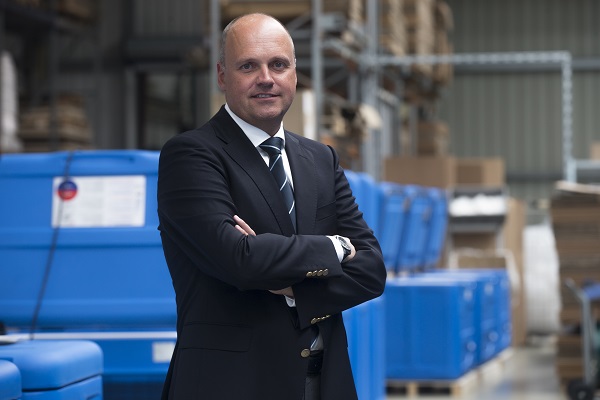 Luc Provost, CEO of B Medical Systems; Credit: B Medical Systems
SPONSORED CONTENT
Chronicle.lu recently had the opportunity to sit down with Luc Provost, the CEO of B Medical Systems, a Luxembourg-based award-winning global manufacturer and distributor of medical-grade devices, to discuss the origins, development and mission of this cold chain solutions specialist.
Based in Hosingen in northern Luxembourg, B Medical Systems has garnered significant media and public attention and recognition over the past two years for its COVID-19 vaccine storage and transportation solutions. However, the company has been creating innovative solutions to store and transport all kinds of vaccines, as well as blood components and laboratory specimens, among other products, across the world for more than 40 years reliably and safely.
Luc Provost, who has served as CEO of B Medical Systems since January 2015, took the time to speak with Chronicle.lu about the company's 43-year journey, from designing its first vaccine cold chain equipment to growing into a global player internationally recognised for the performance of its life-saving medical refrigeration solutions, as well as what the future holds for B Medical Systems.
Chronicle.lu: Please tell us and our readers about B Medical Systems and its role within the Luxembourg and international manufacturing and health technology ecosystems. What is the main mission of B Medical Systems?
Luc Provost: B Medical Systems has had a very interesting position in Luxembourg. We have been here for more than four decades, starting under the name of "Electrolux" and originally, we were based in Vianden, which is not far actually from where our factory is today, in Hosingen. But the Hosingen factory is really different to what it used to be in Vianden. We have developed immensely in terms of staff, modernity, automation, technologies, internationalisation. All of that really has evolved a lot over the past four decades.
In the very beginning of our history, we still had very much the "Electrolux household" profile, so in those days we were doing exactly what many of our competitors are still doing today, which was to modify household appliances for medical applications. That's something that we have evolved completely to a different track today. Today, we conceive products from scratch to really comply more than 100% to the medical needs. We no longer modify household appliances to meet those needs.
In terms of Luxembourg, I think B Medical Systems really stood out in the COVID times, because Luxembourg is very famous for its banking, its insurance, SES satellites, the steel industry, but not so much for its medical activity. Thanks to, or because of COVID, that has completely changed. Being a global leader in vaccine cold chain was a fact for many years but has only come to light thanks and because of COVID. I think that's something that helped our company in many different ways, because we received a lot of attention during COVID times. Also, the Luxembourg Government has always been a very strong supporter of our company, be it during the Electrolux days or the B Medical Systems days today. For us, it was also an opportunity with COVID to "renvoyer l'ascenseur" [return the favour]. What we have been able to do is to support the Luxembourg Government with its challenge of fighting COVID in the country. The entire vaccine cold chain that has been set up in Luxembourg has been of the B Medical Systems brand, and we immediately equipped the entire country according to its needs.
Chronicle.lu: Please elaborate on some of the initiatives that saw B Medical Systems make the headlines during COVID-19, e.g. the €12 million production plant extension project that launched just last year?
Luc Provost: B Medical Systems has been a market leader in vaccine cold chain [for many years], but the COVID crisis really changed the dimension of the needs globally for vaccine cold chain. To be able to respond in an adapted way to these new needs, we had to expand our manufacturing capacity. We doubled our factory within less than a year; we have built new production lines, a new building within a year, and that was thanks to the help of the Luxembourg Government. Of course, the company also had to coinvest in this project. But that's something that was really, I think, worthy of the Guinness Book of Records, because to set up a complete factory, doubling within less than a year, is close to a miracle! Thanks to the Luxembourg ecosystem, the building companies, the electricity companies, the local authorities, the government authorities to get all the authorisations, everything went like a fast train and we succeeded in making it happen. That really allowed us to respond much better and much quicker to the international needs for cold chain around the globe.
Chronicle.lu: As well as expanding in terms of a production hall and production lines, the team itself has grown quite significantly. Please elaborate.
Luc Provost: Absolutely. We expanded from approximately 210 staff members to more than 350 staff members in a very short period of time. We have invested a lot in research and development (R&D), because we very quickly identified with the COVID crisis that many governments were in challenging positions. They did not know if they were going to buy a Pfizer or a Moderna or a Sputnik vaccine, and all these vaccines have different temperature profiles. So, the governments did not know which vaccines they would buy, in which quantities and when. We invested in R&D capacity to be able to ease that decision for the governments, and with about three products, you could cover the entire product needs in terms temperature, be it for transportation or storage. For example, our -80-degree freezer is a freezer which has been modified by the R&D team to be able to provide the -80-degree environment which is needed for the Pfizer vaccine, or -20 degrees which is needed for other vaccines. This same unit can provide medical storage conditions which are accurate to a certain temperature profile. We did the same with our refrigerators which were focused on +4 to +5 degrees and can now go down to -20. With two units you cover the entire range of existing vaccines globally, which is incredible. We did the same with the transport boxes, which we qualified for all temperature ranges and for all types of transportation, be it by road, rail or air, and that again has given a lot of flexibility to governments. So, governments had a one stop shop with B Medical Systems where they could just knock on our door and say: "Look, we need a solution for our country. We do not know what the temperature needs are". And with just three products, they could cover and be prepared for any situation or scenario that could present itself to the country.
Chronicle.lu: Please tell us more about the team structure. People of how many nationalities work at B Medical Systems. In which areas of expertise do they work? Where are they located?
Luc Provost: Our structure is very international. The backbone of our structure is in Luxembourg. The whole company has become much more international. Historically, we had a lot of German DNA in our company, because we are very close to Bitburg and more than 60% of our staff coming from Germany, so we have the German quality and strictness in manufacturing. But, it has very much internationalised, because in 2015, when we did the management buyout with Navis Capital from Malaysia, of course they spoke English and we moved all the meetings and documents which were in German in the past to English. I think the fact that we moved to English also made the company more accessible for other nationalities to join. Today, we have about 29 different nationalities within the company, from all around the globe, including Latin America, south-east Asia and Africa. It's really a mix, which also reflects our customer mix a bit. It's really a global environment which has been brought close to home.
Thanks also to the intervention of Luxembourg's Prime Minister Xavier Bettel, we have been able to set up a factory in India, in the state of Gujarat, in the city of Mundra, which is the single largest sea port in India. This factory is allowing us again to develop new competences and new skills. India is very well known for its IT skills, for rotomolding, which is actually the manufacturing technology that we use in Luxembourg; the recent machines we bought actually came from India. There's a lot of interesting synergies that were created with this gloablisation and this global footprint. We are trying to push that even more now and to become less and less dependent, like many other countries, on Chinese supplies, because these have been and continue to be a challenge. Also, in terms of security for a company and its supply chain and diversification, it is very wise to enlarge the footprint of your supply chain. That's something that we have been able to do not only with India, but also with the US, with central Europe, eastern Europe. So, we really have diversified our supply chain to minimise risk going forward.
Chronicle.lu: Please tell us more about how your solutions are distributed and used outside of Luxembourg.
One of the aspects which has been very important is the internet of things (IoT). That's something that B Medical Systems has invested in at a very early stage. Since 2000, our products are equipped with embarked IoT. From an office here in Luxembourg, you could connect to a refrigerator which is standing, for example, in Bogota in Colombia and know exactly what the temperature is inside, how it is working, how many [times the door was opened], if the products are at risk or not. And that has been hugely important, also with the COVID crisis, because in one single Ultra-Low Freezer, you had several millions of euros, so you really wanted to be sure that the lifesaving vaccines that were inside were potent. That you can only guarantee with remote monitoring.
Chronicle.lu: Some of your products recently received new certifications and awards. Please elaborate.
Luc Provost: We have had several awards for these very important innovations. Also, in terms of certifications, for example, due to our R&D activity, we have developed such innovating products that even the international certifications or standards did not exist to qualify these products. So, the World Health Organization (WHO) has created two new categories to be able to qualify these innovative products and to give them a certificate. One example is the Toyota Refrigerated Vaccine Transport Vehicle. That's a typical 4x4 vehicle, which is capable with one single fuel tank of covering a distance of 2000km in the bush and to supply up to 396 litres of vaccines to very remote villages. That's something that is very unique, which did not exist previously. Because it was so incredibly interesting for its capacity to vaccinate all the populate in certain countries, WHO created a new category for this equipment.
Chronicle.lu: Are there currently plans to create more jobs at B Medical Systems in the near future?
Luc Provost: I think the company is almost condemned to grow! For us, to keep our leading position in cold chain, we could only do that through innovation, but not only innovating products but when you innovate, you also need to produce these innovations. So, for sure, we will continue to innovate, and also continue to accelerate. That's also something that the company has shown in recent years: its capacity to accelerate the innovations and bringing these innovations to market. Because we have discovered quite a lot of new opportunities. And one of the interesting aspects is that because we have a lot more visibility today, there are a lot of innovative companies that are knocking on our door, presenting their innovations for us to take up on our product range. Because we have a very large capacity to market products globally, small companies that have fantastic innovations but no sales network, find it interesting to team up with a market leader, to market quickly their innovations. Some of these innovations that we have encountered recently are very interesting and we are actually now investigating several of these innovations to see which ones are really the frontrunners that we would like to explore going forward.
Thanks to our track record, which has been flawless in terms of bringing quality products to the market, that also has given us a listening ear at organisations like WHO. WHO often asks us for advice or for technical discussions to see where the standards should be going in the future based on the innovations and the technology that are coming to the markets. That's a very interesting collaboration to have, with organisations like WHO, because very often, you can have certifications or standards which are blocking innovation because they are too tight or not tight enough. I think that's a really interesting situation to be in, to have this image that we are a reliable partner who is capable of giving technical advice to organisations which are setting the standards.
Chronicle.lu: Where do you see B Medical Systems in the next five to ten years? What more do you hope to have achieved by then?
Luc Provost: I think B Medical Systems will develop itself a lot more geographically. One of our key markets that we really want to develop heavily is the US market, because it is one of the leading markets for medical refrigeration, for research, where you have cryogenics. So, that typically is a market that is highly attractive to us.
In terms of ownership, we have always been private equity owned throughout our existence and I think Navis Capital has been a fantastic owner for B Medical Systems since 2015. But I believe that in the very near future, we will change hands again, and I am convinced that will bring new interesting opportunities for the company to develop globally. It's not only the internal structure but also the ownership which has a very big impact on a company. I think we are ready to move to the next phase.