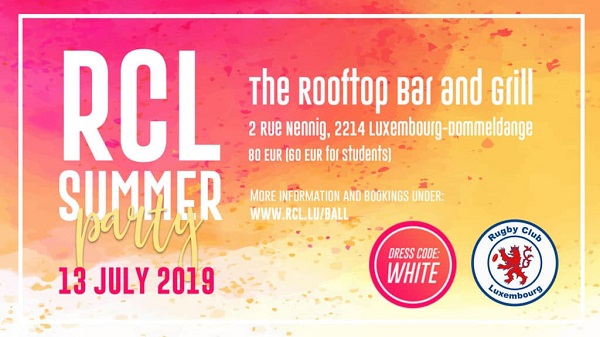 Chronicle.lu, in collaboration with The Rugby Club Luxembourg (RCL), are offering a FREE pair of tickets (worth €160) to the RCL Summer Party on Saturday 13 July 2019; to win your FREE tickets, see below.
The event is being organised from 19:00 - 03:00 at the Rooftop Chalet & Beach Bar (2 Rue Nennig, L-2214 Luxembourg-Dommeldange) - located near Arbitare furniture shop on the third floor. Tickets cost €80 (€60 for students). The price includes BBQ, salad buffet + all drinks.
Dress code: White. Ladies – caution with the choice of shoes. The venue has wood flooring (with wide gaps) – best to wear suitable shoes (i.e. no pointed heels). Please note it is not a sit-down dinner!
Raffle tickets will be sold during the evening – Excellent prices to be won. All profits will go to charity. The RCL social club supports those in need: Free access to the summer camp and other events for children from disadvantaged families in liaison with Caritas; Creating unique opportunities, to study, live and play rugby for children and teens from developing nations.
To apply for your FREE tickets to Luxembourg's the RCL Summer Party at the Rooftop on 13 July 2019, please enter below (requires registration & log-in). Please enter your full name and your gsm/mobile telephone number.
The draw will be made at 12:00 on Wednesday 10 July. Winners will be contacted directly. Winning tickets will be available at the venue on the day.